Imagine eating pasta plain or with cheese on it. Well, that was before, and all thanks to the great chef Ippolito Cavalcanti who introduced Pasta al Pomodoro (pasta with tomato sauce) in 1837, publishing its very first Pomodoro recipe 'Vermicelli al Pomorodo'.
What is Pomodoro anyway? Pomodoro means tomato. Denoting down the tomatoes until it makes a puree. It was sometime in 1778 when the 'salsa al Pomodoro' was mentioned by the chef and author Vincenzo Corrado in the book 'Cuoco Galante,' (The Chivalrous Cook), but it was sometime in 1800 that they used the Pomodoro in pasta.
But, what does this dish made it special? And why it is considered not just a tradition but an Italian symbol?
Well, it is definitely because of its simplicity. Yes, you heard it right! With just basic ingredients in it, but when we say basic ingredients it doesn't mean that it is cheap, we need to get the best of it. It is referred to as a quick light dish rather than a dish in a heavy sauce. And since it is the first past dish to come up and be paired with a sauce, it is marked to be an Italian symbol.
You need not be an expert to cook this one, it is as simple and easy as 1, 2, 3.
Pasta con Pomodoro e Basilico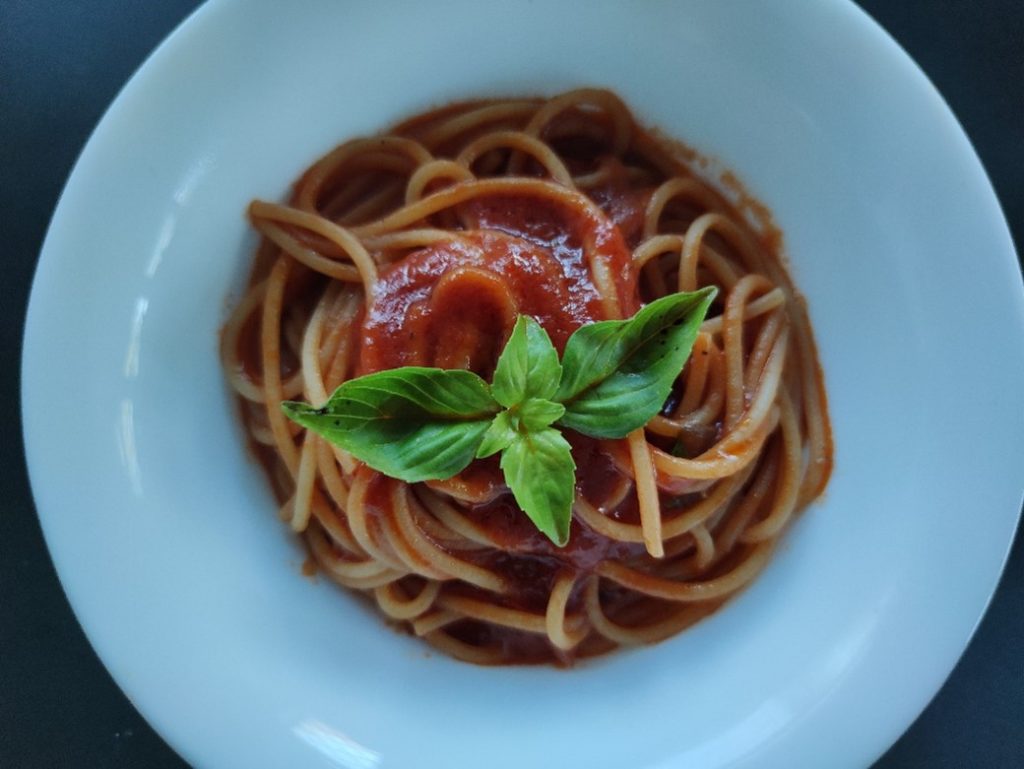 Ingredients:
150g Spaghetti or short pasta
350g Tomato puree (fresh tomatoes will also do)
6 basil leave
Olive oil
Salt
Black pepper
Garlic or onion
Directions:
Start with the preparation of the tomato sauce. In a pan pour the extra virgin olive oil together with the peeled clove of garlic cut in half (same amount when you use an onion). After 2 minutes of cooking over high heat, remove the garlic, add the tomato puree (when you are using fresh tomatoes, you can gently fry the tomatoes and garlic in olive oil and puree it in a food processor).
Let the sauce boil for 10 to 15 minutes with occasional stirring, add salt and pepper to taste.
In a separate pot, boil water for the pasta, add a bit of olive oil and salt to your liking. Make sure that your pasta is al dente.
Drain the spaghetti.
Add 4 basil leaves before turning off the sauce, torn, not chopped.
Add the spaghetti and saute it until it takes the color and flavor of the sauce.
Top it with the remaining basil leaves and it is ready to serve.
This serving is good for two people. Che Buono!
You can always enjoy it with a sprinkle of parmesan cheese when plated. Don't try to serve it with bread or salad as it is meant to be eaten alone and enjoy it the way Italians do!
Where to eat Pasta al Pomorodo?
Trattoria 13 Gobbi in Florence, Italy
Trattoria 13 Gobbi is known to serve the best Pasta al Pomorodo in the world, using rigatoni as their pasta, and was recommended by 9 food critics including Daniele Siciliano.
Pastasciuttain Rome, Italy
Home of the Strozzapreti al Pomodoro which is known to be their 'main meal'. Pastasciutta was recommended by Ramona Di Meola and one more food critic.
Pasta Pomodoro in the US
Was an American chain of Italian Restaurant that started as a single restaurant at the Marina District of San Francisco California in 1994 and grew to over 25 restaurants in San Francisco Bay Area, Los Angeles, and Orange County. But on December 26, 2016, they abruptly closed all 15 remaining restaurants in the chain.
Bardolino to be paired…
Pasta al Pomodoro is best paired with Bardolino a type of red wine from Verona, on the southeastern shores of Lake Garda. It is predominately made with a blend of Corvina and Rondinella grapes, which are produced in original, traditional vineyards, are harmonious and pleasant wines that go well with various strong and light dishes.
Since the recognition of Pasta al Pomodoro in 1837, it became quickly popular all over Italy and was quickly been exported beyond national borders. And now this scrumptious pasta is served anywhere in the world, in all the best restaurants, and every household, despite the gastronomic differences.
Now, have fun in making your version of Pasta al Pomodoro e Basilico at the comfort of your home with your loved ones. Buon appetito!