If you're a foodie like us, you know just how much Italy adores its Mediterranean cuisine. Referred to as "The Boot," Italy's fame is based mostly on its mouth-watering dishes that the Mediterranean Sea's rich abundance of fish and seafood provides. So, what exactly is Mediterranean food and how to experience it in Italy?
Mediterranean food is traditionally characterized by utilizing fresh, seasonal ingredients. Dishes utilize olive oil, garlic, herbs, fish, seafood, rice, and legumes, as well as loads of fresh vegetables for a healthy, delicious meal. Meals often have chunks of tomato, onion and flavorful peppers such as chili peppers and bell peppers, but the most important aspect of Mediterranean food is the use of local and seasonal ingredients.
When in Italy, you can experience the magical Mediterranean cuisine almost everywhere. Numerous traditional restaurants serve up Mediterranean favorites such as roasted lamb sautéed with rosemary and garlic, fried calamari with lemon aioli, and homemade, al dente pasta with mussels and clams. If you prefer, you can sample unique culinary creations from different restaurants— there's no shortage of delicious options.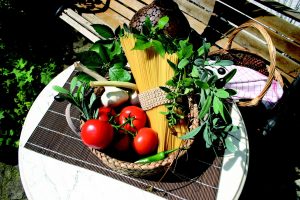 In urban centers like Rome, Naples and Milan, it's easy to find restaurants that serve up Mediterranean fare. In smaller towns, though, you'll fare better looking for a trattoria (a casual, traditional Italian restaurant). You can also go searching for a fishmonger with catch-of-the-day seafood fresh off the boat. The Italian countryside is also home to a plethora of farms, so there is always a chance to sample some farm-fresh produce (and local dishes) while out and about.
In addition to the typical Italian dishes, there are also a variety of unique ways to experience and enjoy Mediterranean cuisine in Italy. This includes sampling locally-made artisanal salami, cheese, and cured meats in delis and specialty shops, or venturing to shorelines for a spritz and a platter of fried calamari. Many also enjoy coastal cruises where meals are served on deck and floating trattorias ply their trade in rivers and lakes. There's even a special cuisine called cicchetti, which are small appetizers served in vintage-style cafés throughout Italy.
Aside from Mediterranean food in Italy, it's essential to also experience the culture, customs, and hospitality of the country. You can shop in local markets, get to know the locals, take wine tasting tours, visit nearby vineyards and olive groves, or enjoy a leisurely stroll along the shore of the Mediterranean. In Italy, it's impossible to be bored!
The best trivia about Italy's Mediterranean cuisine is the range of different food cultures it embraces. Over the centuries, the coastal city-states of Italy have been strongly influenced by a number of different food cultures, such as Greek, Spanish, North African and Provencal. This gives Italy an incredibly diverse and unique "flavor profile" that can leave a lasting impression on any palate.
When it comes to enjoying Mediterranean cuisine in Italy, it's tough to beat. Whether your appetite calls for something traditional like gnocchi alla Genovese, something simple like spaghetti alla carbonara, or something unique like an artisanal cheese plate with figs and grapes, there's something for everyone. Don't miss out!