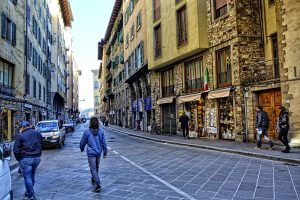 Florence, the capital city of Tuscany, is renowned for its historic art and architecture, cuisine, and stunning views of the Arno River. One of the best ways to experience the essence of Florence is by strolling through its captivating streets.
The streets of Florence are a perfect blend of medieval and modern architecture, featuring a mix of narrow cobblestone alleys and broad avenues lined with grand buildings. Each street has a unique story to tell, showcasing the city's rich history, art, and culture. Let's explore some of the most charming and interesting streets in Florence.
Via dei Calzaiuoli
One of the busiest and most vibrant streets in Florence, Via dei Calzaiuoli connects two of the city's most famous landmarks, Piazza del Duomo and Piazza della Signoria. This street is a shopper's paradise, featuring an array of high-end designer boutiques and local artisan shops selling everything from leather goods to jewelry and artwork. As you wander down this street, you will also find several cafes and restaurants where you can take a break from shopping and enjoy some of Florence's delicious cuisine.
Borgo San Jacopo
Located on the southern bank of the Arno River, Borgo San Jacopo is a charming street lined with historic buildings, galleries, and boutiques. This street offers breathtaking views of the Ponte Vecchio, one of the most iconic landmarks in Florence. The Ponte Vecchio is a 14th-century bridge that spans the Arno River and is known for its unique shops that sell gold and silver jewelry.
Via Maggio
Via Maggio is one of the oldest streets in Florence, dating back to the 14th century. This street is a hub for art collectors and antique enthusiasts, featuring several galleries and antique shops selling rare paintings, sculptures, and furniture. Via Maggio is also home to the Palazzo Davanzati, a historic palace that now serves as a museum and showcases Renaissance-era artifacts and art.
Via de' Tornabuoni
Via de' Tornabuoni is one of the most elegant and prestigious streets in Florence. It is lined with grand palaces, high-end fashion boutiques, and luxury hotels. This street is the perfect place to admire the architecture and design of the Renaissance era, with several buildings showcasing intricate details and beautiful facades.
Trivia about Florence's Streets
Did you know that the streets of Florence were not always paved with cobblestones? In the early 19th century, the streets were paved with large rectangular stones that were slippery and uncomfortable to walk on. In 1824, the city government replaced the rectangular stones with cobblestones, which provided better traction and were more durable.
Another interesting fact is that some of the streets in Florence are named after the craftspeople who used to work in the area. For example, Via dei Fossi, which means "street of the ditches," was named after the workers who used to dig ditches for the city's water supply. Via dei Calzaiuoli, which means "street of the shoemakers," was named after the many shoemakers who worked in the area.
Conclusion
Exploring the streets of Florence is a must-do activity for anyone visiting this beautiful city. From the bustling Via dei Calzaiuoli to the elegant Via de' Tornabuoni, each street offers a unique experience that captures the essence of Florence's rich history, art, and culture. As you wander through these enchanting streets, take time to appreciate the beautiful architecture, indulge in some local cuisine, and discover the many hidden treasures that this city has to offer.