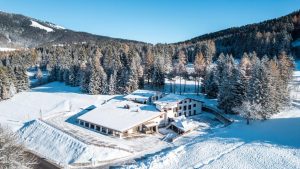 If you're looking for a cozy and charming mountain getaway, look no further than Casa Alpina. This rustic alpine house, located in the heart of the Italian Alps, offers a unique and unforgettable experience for visitors.
Casa Alpina, also known as the Alpine House, is situated in the beautiful town of Madonna di Campiglio, in the Trentino region of northern Italy. The town is known for its ski resorts, natural beauty, and stunning views of the Dolomites mountain range. But Casa Alpina offers something different – a chance to stay in a traditional alpine house that has been lovingly restored and decorated.
The history of Casa Alpina dates back to the early 1900s, when it was built as a hunting lodge for an aristocratic family. Over the years, it changed hands several times and was eventually abandoned. But in 2015, it was purchased by a local family who decided to restore it and turn it into a unique vacation rental property.
Today, Casa Alpina is a beautiful and cozy house that offers a glimpse into the traditional alpine lifestyle. The house has been decorated with antique furniture and traditional alpine decor, giving it a rustic and authentic feel. But despite its traditional touches, Casa Alpina is also equipped with modern amenities such as WiFi, a modern kitchen, and a cozy fireplace.
One of the unique features of Casa Alpina is its location. The house is situated in a secluded spot, surrounded by trees and mountains. This gives visitors a sense of privacy and seclusion, while still being close to the town of Madonna di Campiglio. From the house, you can enjoy stunning views of the surrounding mountains and the Val Rendena valley.
If you're looking for things to do in the area, there is no shortage of activities. In the winter, you can hit the slopes at one of the many ski resorts in the area, or go snowshoeing or cross-country skiing. In the summer, you can hike or bike through the beautiful alpine scenery, or try your hand at rock climbing or paragliding.
But one of the best things about Casa Alpina is simply the opportunity to relax and unwind in a beautiful setting. You can curl up with a book by the fire, soak in the stunning views from the balcony, or enjoy a glass of wine on the terrace. And if you're feeling ambitious, you can even try your hand at cooking traditional Italian dishes in the fully-equipped kitchen.
So if you're looking for a unique and unforgettable vacation experience, consider staying at Casa Alpina. With its charming decor, secluded location, and stunning views, it's sure to be a highlight of your trip to the Italian Alps.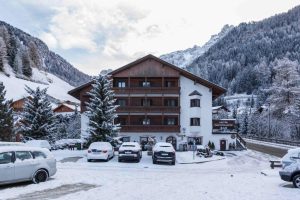 Trivia: Did you know that the Dolomites mountain range, which can be seen from Casa Alpina, is known for its unique pink and orange hues? This is due to the composition of the rock, which contains a high concentration of calcium carbonate and magnesium. The range was designated a UNESCO World Heritage Site in 2009 for its natural beauty and geological significance.
In conclusion, Casa Alpina is a beautiful and unique vacation rental property that offers visitors a chance to experience traditional alpine living in a stunning setting. With its charming decor, secluded location, and modern amenities, it's the perfect place to unwind and explore the beauty of the Italian Alps. Whether you're an outdoor enthusiast or simply looking for a place to relax and recharge, Casa Alpina is sure to be a highlight of your trip to northern Italy.