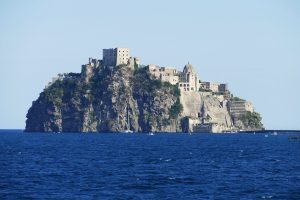 Located in the Tyrrhenian Sea, off the coast of Naples, Ischia is a stunning island that boasts a diverse natural landscape, rich history, and therapeutic hot springs. With its mild climate, lush vegetation, and turquoise waters, Ischia has long been a popular holiday destination for Italians and international travelers alike. From exploring medieval castles and ancient Roman ruins to soaking in natural thermal pools and savoring the local cuisine, Ischia offers a wealth of experiences that cater to all tastes and interests.
History and Culture
Ischia has a long and fascinating history that dates back to ancient times. According to legend, the island was named after a nymph who fell in love with the god Apollo and asked him to give her a place to live. Apollo created the island and named it after her, making it a sacred place of healing and rejuvenation. In reality, Ischia was inhabited by different peoples over the centuries, including Greeks, Phoenicians, Etruscans, and Romans. Its strategic position in the Mediterranean made it a coveted territory for many rulers, who left their mark on the island's architecture, art, and traditions.
One of the most impressive sights on Ischia is the Aragonese Castle, a medieval fortress that stands on a rocky islet connected to the main island by a stone bridge. Built by the Norman king Roger II in the 12th century, the castle was later expanded and renovated by the Aragonese dynasty in the 15th century. Today, it houses a museum, a chapel, a restaurant, and a panoramic terrace that offers breathtaking views of the sea and the coastline.
Another highlight of Ischia is the ancient Roman settlement of Villa di Livia, located in the town of Forio. The villa was built in the 1st century BC and belonged to Livia Drusilla, the wife of Emperor Augustus. It features well-preserved mosaics, frescoes, and thermal baths, which testify to the luxurious lifestyle of the Roman aristocracy.
Nature and Wellness
Ischia is renowned for its thermal springs, which are scattered throughout the island and are believed to have therapeutic properties for various ailments, from skin diseases to arthritis. The most famous springs are located in the town of Ischia Porto, where the ancient Romans built a complex of baths known as the "Piscina Mirabilis". The complex is still visible today and has been used as a water reservoir during different periods.
Another popular spot for thermal treatments is the town of Casamicciola Terme, which has several spas and wellness centers that offer massages, mud baths, and hydrotherapy. The town also has a beautiful beach, Lido di Casamicciola, where visitors can relax in the sun and swim in the crystal-clear waters.
For those who prefer a more secluded and wilder beach experience, Ischia has several hidden coves and bays that can only be reached by boat or on foot. One of the most enchanting is Baia di Sorgeto, a natural hot spring located in a rocky inlet on the southern coast. The spring water mixes with the sea water, creating a unique sensation of warmth and coldness. Visitors can also dig their own pools in the sand and enjoy a private soak in the midst of nature.
Food and Drink
Ischia's cuisine is a delicious blend of Mediterranean and Neapolitan flavors, with an emphasis on fresh seafood, locally grown vegetables, and homemade pasta. Some of the must-try dishes include spaghetti alle vongole (spaghetti with clams), parmigiana di melanzane (eggplant parmesan), and coniglio all'ischitana (rabbit stewed with white wine and rosemary). Ischia is also famous for its wines, particularly the white and red varieties made from the local grapes, Biancolella and Piedirosso, respectively. Visitors can taste these wines and other local specialties at the numerous trattorias, osterias, and pizzerias that dot the island's villages and towns.
Fun Facts about Ischia
Ischia is the largest island in the Bay of Naples, covering an area of 46 square kilometers (18 square miles) and hosting a population of about 60,000 people.
Ischia has been the setting for several movies, including "The Talented Mr. Ripley" (1999), starring Matt Damon and Jude Law, and "Avanti!" (1972), starring Jack Lemmon and Juliet Mills.
Ischia has over 200 thermal springs, making it one of the most important spa destinations in Italy and Europe.
Ischia has a tradition of ceramics, which dates back to the 17th century and produces colorful and ornate pottery that reflects the island's natural and cultural motifs.
Ischia has several festivals and events throughout the year, such as the Festa di San Giovanni Battista (June 24), the patron saint of the island, and the Ischia Film Festival (July), which showcases independent films from around the world.
In conclusion, Ischia is a magical island that has something for everyone. Whether you're looking for a relaxing holiday by the sea, a cultural tour of ancient ruins and castles, or a wellness retreat in thermal baths and spas, Ischia is sure to enchant you with its beauty, history, and hospitality. So pack your bags, book your ticket, and get ready to discover the enchanting island of Ischia, where time slows down and life takes on a new meaning.