Cookies are one of the go to snacks that I eat. It's sweet and delicious. Cookies are so famous that Sesame Street created a character that is addicted to cookies. Yes, you are right I am talking about Cookie Monster. Not just me but I believe many people around the world loves cookies. Cookies are also a common food or snack to serve when you have a visitor in your house. This is one of the reasons we serve cookies because we know people love it. Once you take a bite, you can't stop eating it. It has a taste that makes you crave more and more until you realize you already finish eating them all.
You can pair cookies with any beverages, it can be coffee, juice, soda and even tea.
Most common type of cookie is the chocolate chip cookie. It originated in the United States. But as time goes by, many countries already adapted and created their own recipe of cookies. I'll show you how other country put their own taste on making cookies, it may be for sale or just making it for their kids to eat at home.
Lingua Di Gatto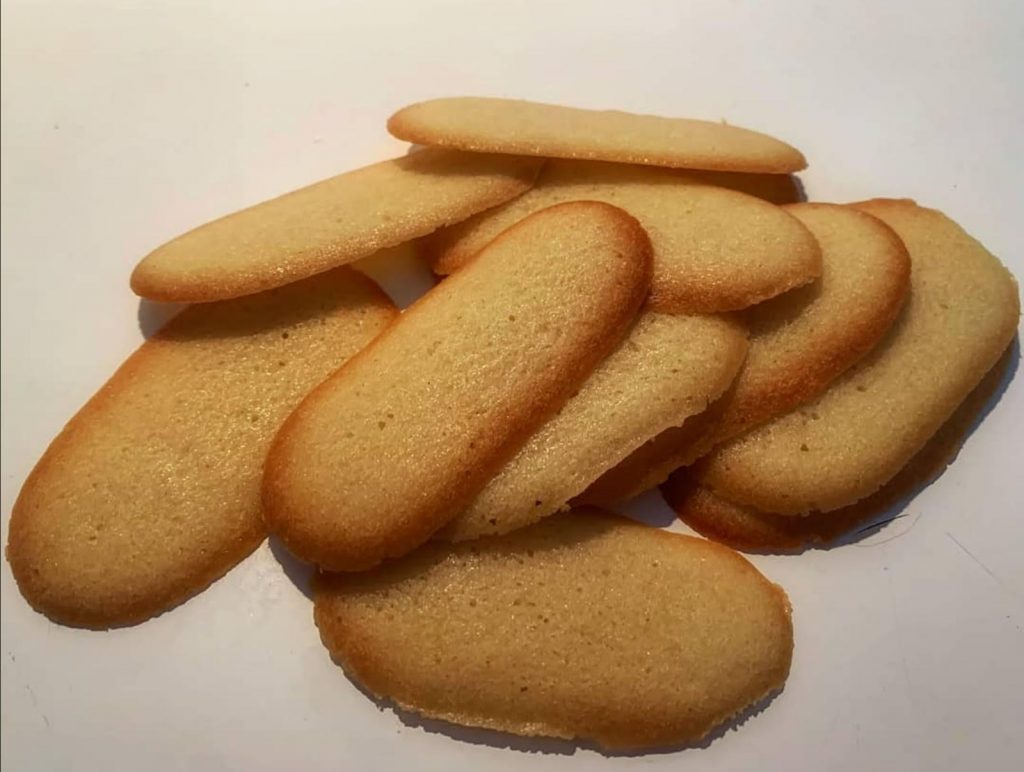 These cookies are called "tongues of cat" because their shape resembles it, in Italian "lingua di gatto". These cookies are crunchy, tasty and buttery. I think almost all of the bakery in Italy sells it. It can also be paired not just beverages but it's also best eaten with an ice cream! Well, ice cream with cookie who can resist that. Sweets on sweets a perfect combination. The recipe for this one is so easy to find, most of its ingredients are the most common ingredients in baking.
This cookie is very easy to make yet will surely satisfy your cravings.
Ingredients:
Butter
Powdered sugar
Egg whites
Flour
Vanilla
Method:
First step is to preheat your oven to 180˚C / 360˚F. Pop your softened butter into a large mixing bowl and add the icing sugar. Mix, mix, mix with a wooden spoon until creamed.
Add in half the egg whites and mix, then half the sifted flour and mix until combined. Repeat for the remaining egg whites, then the remaining flour, until you've got a soft, sweet and well mixed dough.
Now, line a baking tray with baking paper and use a piping bag (or make your own homemade piping bag using baking paper – watch our video where we show you how) to pipe out your dough into 6-7 cm lengths, leaving plenty of space between each for the dough to spread.
Bake in the oven for around 5-8 minutes, but keep an eye on them and make sure you pull them out of the oven as soon as the edges turn golden brown. Transfer your Lingue Di Gatto from the baking tray to a cool plate or rack and allow to cool.
Pro tip:
Make sure to space out your biscuit mixture on your baking tray(s) with enough space so they can spread out as they cook.
Be quick and take them out of the oven once they start to go brown. Immediately transfer them to a cool tray and off of the hot baking tray so they'll keep their delicious golden brown colour and crispy texture.
If you're feeling extra naughty, dip them in melted chocolate. Make sure it's melted and nice and hot so it's not so thick that it breaks the biscuits when trying to coat.
Use a piping bag to pipe them out onto a tray for the best results. If making your own, make sure to reinforce with lots of sticky tape so you don't have a 'blow out' of mixture when applying pressure (like we did…whoops!)
Don't overfill your piping bag – pop in 2-3 scoops of mix at a time.
For a softer result, pull them out around 5 minutes. For a crispier result, cook for 8-10 minutes until light brown all over.
With just that, you can create your lingua di gatto and enjoy this sweet treat. You can eat it in the morning with your coffee, lunch with your juice and dinner with icecream.
Recipe Source: https://www.wandercooks.com/italian-butter-cookies-lingue-di-gatto/
Pan di Stelle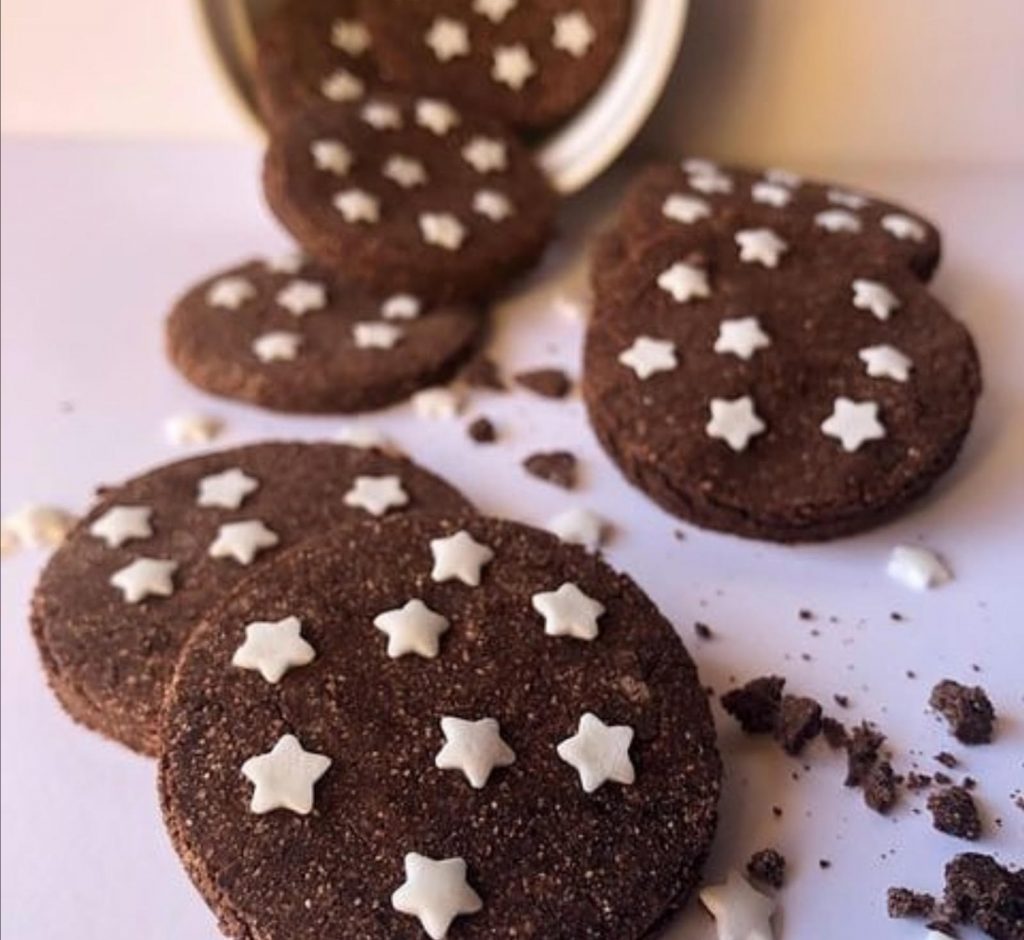 Here's another famous cookie, the bread of stars or pan di stelle. As you can see, from the name itself it has small white star on it. How cute is that? It's aesthetically pleasing to the eyes. This cookie tastes sweet and crunchy. With its white stars, it was inspired by a dream with chocolate skies that sparkle sweetly with stars. It was Mulino Bianco who founded Emilia-Romagna in 1974, with his other sweet creation pan di stelle is one of the famous products they created.
But wait!! There's more with this cookie, Pan di stelle is very famous that the company decided to create a cream/spread inspired by this cookie. So, if you are not satisfied with just eating the cookie, you can buy the Pan di Stelle cream, pair it with crackers or bread.
When you wake up in the morning, Pan di Stelle is best paired with coffee and tea.
This cookie is commercially sold in every grocery store in Italy and not just Italy it is now sold all over the world. If you cannot seem to find it on your nearest grocery store, you can order it online. Just search it on the internet!!
Inzuppotti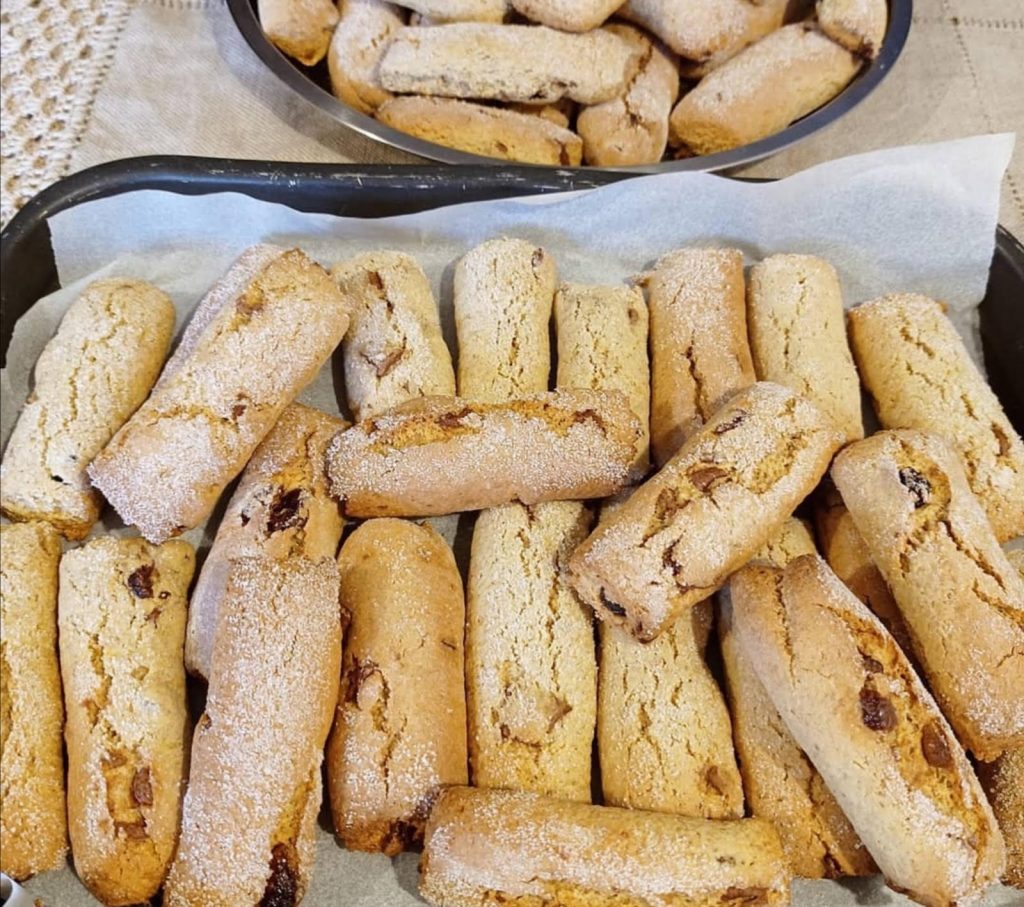 Another traditional cookie is the Inzuppotti, all Italian grandmothers cook "Inzuppotti" which means they are good to soak. This cookie is best paired with hot chocolate or hot milk. If you like dipping your cookie with these drinks, then Inzuppotti is for you. From the name itself, that means soak you can enjoy the real taste of this cookie when soaked with your favorite drink.
Here's how you can create this cookie and enjoy eating it in the comfort of your own home or to serve it when you have visitors.
Ingredients:
300 g of re-milled durum wheat semolina
50 g of Sunflower oil
10 g of Vanilla yeast
1 Egg
100 g of Sugar
40 g of Milk
1 tsp of Honey
1 pinch of Salt
Brown or granulated sugar (to taste, for decoration)
1 tablespoon of Cocoa Powder
Cinnamon powder (to taste)
Love and passion
Well, as you can see the last ingredient is the best and most important one. This one is a requirement in creating and making every dish. Having love and passion when creating something, especially in cooking or baking makes the food more delicious.
After you have these ingredients, let's proceed to the preparation and cooking.
Preparation and Cooking:
To start, take a large bowl and pour the flour and add the vanilla yeast, a tablespoon of cocoa, (to taste the cinnamon powder), the sugar, a pinch of salt and mix well.
At this point add the oil, egg, milk, a teaspoon of honey and mix well until you get a fairly compact mixture. If it is too crumbly, add a drizzle of milk at room temperature, or a little flour to make it less sticky and more compact.
As soon as you have obtained a homogeneous mixture, form a ball, wrap it in kitchen film and let it rest in the fridge for about 30 minutes.
After the time has elapsed, on a lightly floured pastry board, create sticks of about 5 cm in length, then pass them on one side only on the sugar and place, on the unsweetened side, on a baking tray or baking tray.
Bake at 180 degrees for about 20/30 minutes.
And that's it!! You can enjoy this cookie anytime.
Recipe Source: https://blog.giallozafferano.it/ladietamediterranea/inzuppotti/
Baci Della Dama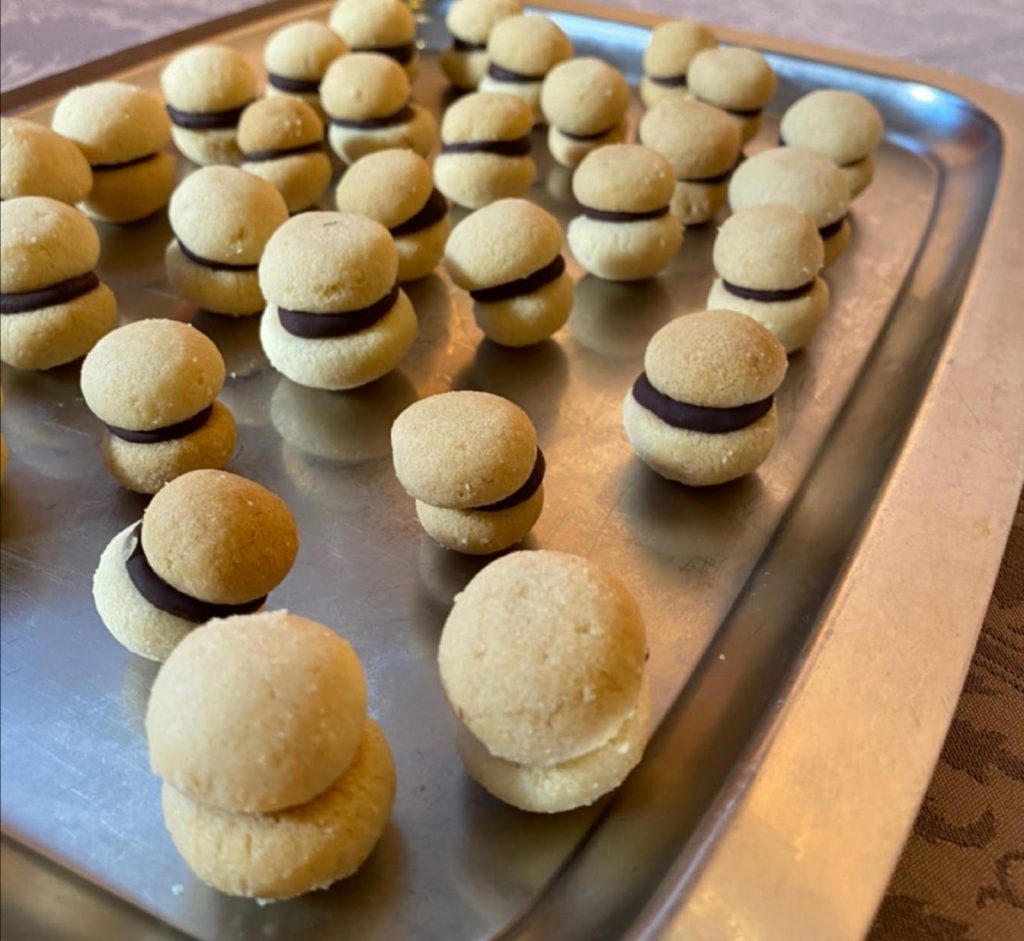 One of the most common cookies that every pastry shop in Italy is selling, it's the baci della dama or bridesmaid kiss. Isn't it a cute name for a cookie? Others call it lady's kisses. Maybe you have an idea why the cookie is called like that. As you can see, it resembles the lips of a lady intent on kissing. How interesting is that?
This cookie was invented in the town of Tortona over a century and a half ago. Tortona is located at the Piedmont region under the province of Alessandria.
This Italian cookie is made with hazelnuts and chocolate and are perfectly paired with an after-dinner coffee.
When you have tried this cookie and missed the taste of this cute and delicious cookie. You can recreate it your own anytime with these ingredients and method.
Ingredients:
100g blanched hazelnuts, toasted
100g butter
100 g flour
100 g dark chocolate broken into small pieces (for the filling)
Method:
Blitz the hazelnuts to fine crumbs, but be careful not to over-blitz – you don't want them to become oily. Add the butter and sugar, and blitz again until really creamy, then tip the mixture into a bowl and sift in the flour. Mix with your hands, then chill in the fridge for an hour or until firm enough to roll.
Heat oven to 180C/160C fan/gas 4 and line a large baking sheet with baking parchment. Tear off teaspoon-sized chunks of mixture and roll into balls, then place on the lined sheet around 2 cm apart. Bake for 15 mins until golden brown, then transfer to a wire rack to cool.
To make the filling, heat the chocolate in a bowl in the microwave, stirring every 10 secs until fully melted. Spread a small spoonful of chocolate on half the cooled biscuits. Leave to set for 15 mins then sandwich the remaining biscuits on top. Leave the baci di dama to set completely (put them in the fridge if the kitchen is warm). Serve with coffee.
Pro Tip: Leaving the chocolate to set a little before topping with another cookie means that the filling won't spread over the edge.
Enjoy the kisses!!!
Recipe Source: https://www.bbcgoodfood.com/recipes/baci-di-dama
Cartellata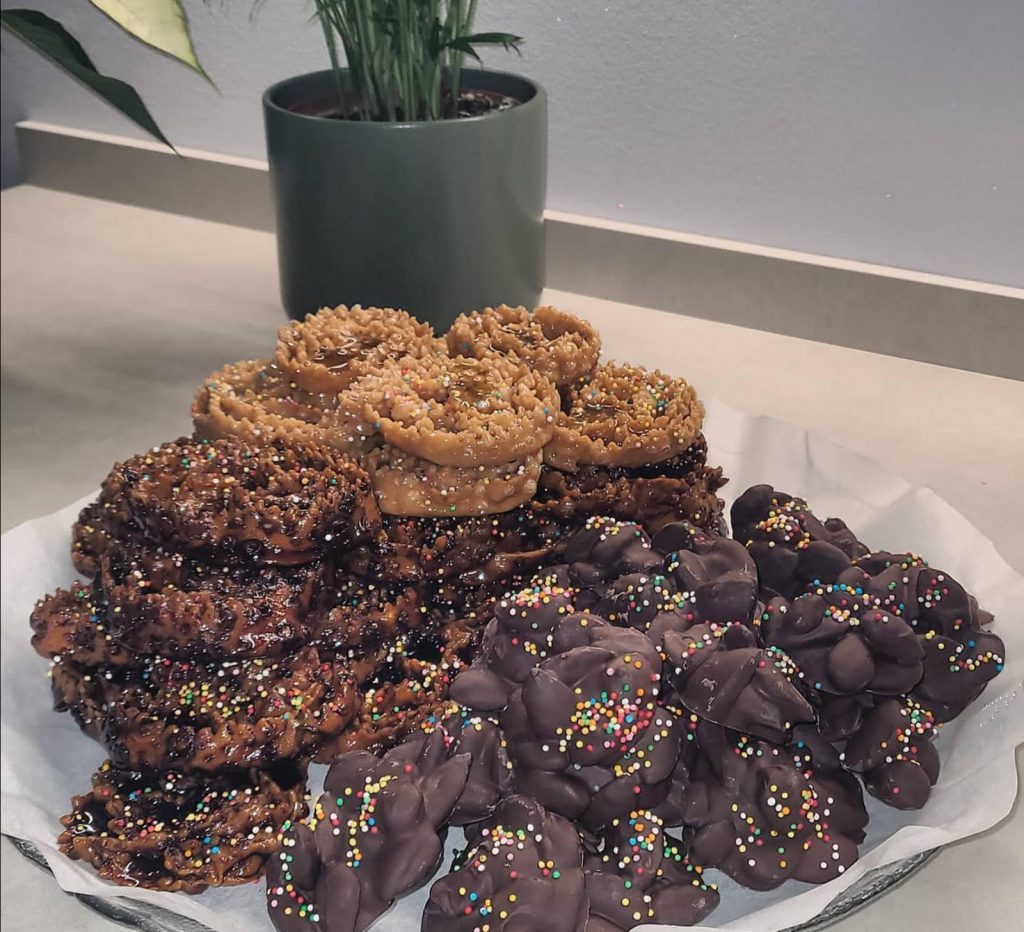 In the Italian carnival the most famous cookie is called "cartellata", and is made with the glaze of cooked wine and honey. These deep-fried spiral sweets come from Puglia, Italy. Puglia is located on the southern part of Italy. It is also known of its whitewashed hill towns, centuries-old farmland and hundreds of kilometers of Mediterranean coastline.
Also, these cookies are commonly served during Christmas season. With its beautiful and festive presentation, it is safe to say why people in Italy make this on Christmas season. It adds the festive feels during Christmas. And don't forget that one of the ingredients of this cookie is wine. Well, wine is for festivity. This cookie is perfect for a festive season.
When the festivity is done but still you want this cookie to be around all year, you can make it with these ingredients and method.
Ingredients:
3 cups of All-purpose flour
1/3 cup of Sugar
½ tsp of Salt
½ cup Dry white one
¼ cup Olive oil
Vegetable Oil
1 Lemon
2 tbsp Confectioners' Sugar (for dusting)
1 tsp Ground Cinnamon (for dusting)
Method:
MIX DRY INGREDIENTS. Mix 3 cups of flour with ⅓ cup of sugar and ½ a teaspoon of salt in a large bowl
ADD WET INGREDIENTS. Pour ½ a cup of wine and ¼ cup of olive oil into a well in the center of the dry ingredients. Gradually incorporate the dry ingredients until a dough forms
KNEAD DOUGH. Place the dough on a lightly floured work surface. Knead lightly until smooth. Cut the dough into two pieces and flatten each one into the shape of a disk. Wrap both of the disks in plastic and allow the dough to rest for 30 minutes at room temperature.
ROLL OUT DOUGH. Return the rested dough to the lightly floured work surface. Roll out one of the dough disks to a ⅛ inch thick 12-inch square. Cut the rolled out dough into ½ inch wide strips.
FORM COILS OF DOUGH. Wrap each of the dough strips around itself into the shape of a loose coil. Transfer each of the coils to a baking sheet. Repeat with the remaining disk of dough.
Heat Oil. Heat at least 2 inches of oil in a saucepan to 300°F. Place a rack over a large baking sheet.
Fry cookies. Fry cookies in batches, start by frying 4 or 5 coils in the hot oil until browned and crisp, about 50 seconds. Repeat until all of the remaining coils are cooked.
Drain oil. Transfer the fried cookies to the rack to drain.
SPRINKLE WITH LEMON ZEST, CONFECTIONERS' SUGAR AND CINNAMON. Sprinkle the cookies with lemon zest and sift a mix of confectioners sugar and cinnamon over them.
And that's it!!! Feels Christmas everyday with this cookie.
Recipe source: https://cook.me/recipe/cartellata-cookies/
So many different cookies, with different taste and shapes. One's thing for sure this food will help you with your sweet cravings. It depends on your preference you can make it on your own home, experiment, add your personal twist or recreate the cookies that you missed eating. You can go to the bakery, pastry shop and grocery store and buy a ready-made cookie.
Cookies are surely one of the comfort foods that we really love. You can it all day whenever you want. If you are hungry and can't go or buy a meal you can just eat some cookie to make you less hungry.
Make sure to bring one wherever you are, you'll never know when you will need one!!!