Pork recipes are one of my all time favorite. If I am about to eat on a restaurant, I would really order a dish that has pork meat on it. It has its distinctive taste that makes you crave and eat more. Pork meat is the most common meat used in dishes. Aside from its taste also the availability of the meat is one of the reason pork meat are very widely use.
According to the USDA's Foreign Agricultural Service, nearly 100 million metric tons of pork were consumed worldwide in 2006. Wow!! That's a lot!!! This just means that pigs are the most widely eaten animal in the world.
There are hundreds of pork recipes around the world. Each country has its own way of cooking and preparing pork meat. Did you know that pork can be eaten both freshly cooked or preserved? Freshly cooked like fried, cooked with vegetable or in a soup. Preserved like ham, smoked pork, hotdog, bacon and sausage.
One of the countries that has famous pork dishes are from Italy. Here are some Italians prepare some of their famous recipes and pork dishes.
Porchetta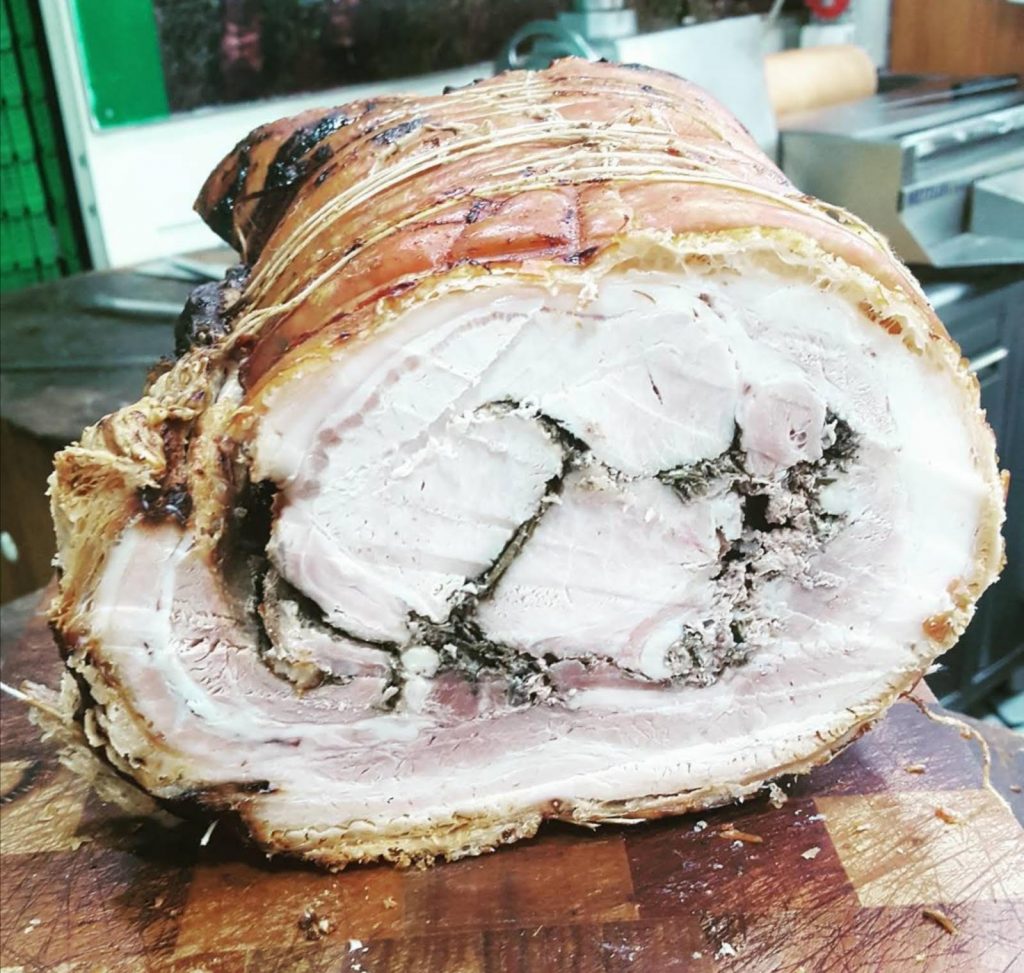 Porchetta is a very common dish from Italy, it originated from the central region of Umbria. Umbria is a region in Italy bordering Tuscany. Lazio and Le Merchie. Umbrians stuffed their Porchetta with plenty of fennel. There are also other places in Italy that makes this dish with their own choice of stuffing but Umbria's Porchetta is the most famous.
Porchetta is a full, roasted pig that has been stuffed with fennel and garlic. Porchetta is commonly eaten during Italian festivals and gatherings. Well, I know you are now intrigued how this dish is prepared and would like to try this at your own home. Just keep reading and we will learn how to prepare this dish.
Ingredients:
2.5 kg pork belly, boneless
600g of pork loin
2 sprigs or rosemary, leaves picked
3 sprigs of fresh thyme, leaves picked
1 large bulb of smoked garlic
1 tbsp of fennel seeds
1 pinch of chilli flakes
1  lemon, zested
2 tbsp of white wine
1 tsp flaky sea salt
1/2 tsp cracked black pepper
500ml of water
Method:
To begin, place the fennel seeds and chilli flakes in hot, dry pan and toast for 30 seconds, until fragrant
Peel the garlic cloves and place in a pestle and mortar. Add the herbs, toasted spices, salt, pepper and white wine and grind to a rough paste
Place the pork belly skin-side down and lay the loin across the width. Trim the loin down to size so it rolls up neatly
Lightly score the belly flesh in a 2cm diagonal pattern and massage the stuffing paste into the belly and loin. Place the loin back onto the belly
Roll up tightly, tie up with butcher's string and leave uncovered in the fridge overnight. This will dry out the skin, giving a crispier crackling
Preheat the oven to 160°C/gas mark 3
Place the pork on a wire rack set over an oven tray. Pour in the 500ml of water and cook in the oven for 3 1/2 to 4 hours. Check at intervals; if the water has evaporated, add a little more
Leave to rest for 30 minutes before carving. Slice and serve warm in buttered bread rolls
Yummy!!! I think I will do this one.
Recipe Source: https://www.greatitalianchefs.com/recipes/porchetta-recipe#:~:text=Although%20porchetta%20can%20be%20found,the%20central%20region%20of%20Umbria
Saltimbocca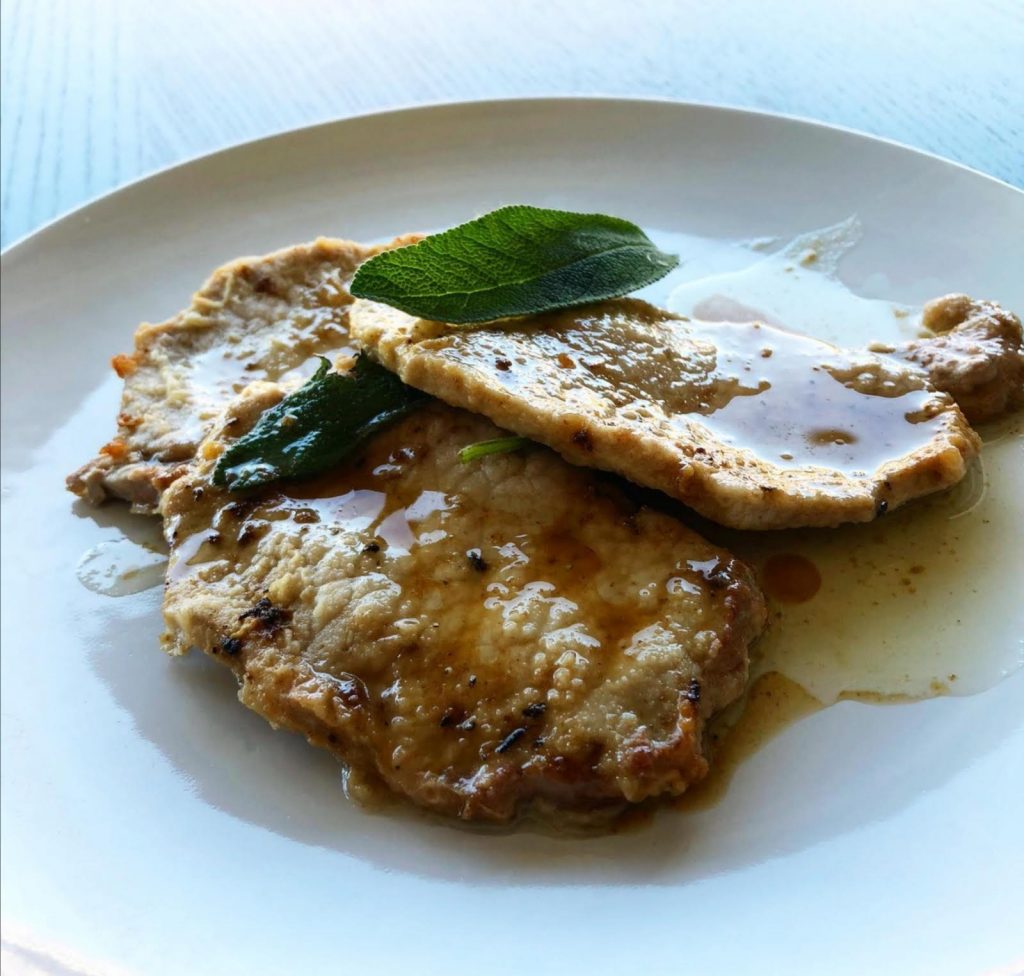 This dish originated in Italy and Saltimbocca means "jumps in the mouth". Some saltimbocca dish uses another type of meat but pork is commonly use with this dish. Traditional Saltimbocca is made with thin slices of pounded veal but lean pork chops update the recipe and provide more flavor.
Let's see how this dish is prepared.
Ingredients.
6 (4-ounce) boneless center-cut loin pork chops, trimmed
6 very thin slices prosciutto (about 2 ounces)
6 large fresh sage leaves
⅓ cup (about 1 1/2 ounces) shredded fontina cheese
¼ teaspoon freshly ground black pepper
⅛ teaspoon salt
2 tablespoons all-purpose flour
1 tablespoon olive oil
½ cup dry white wine
1 cup fat-free, less-sodium chicken broth
1 tablespoon thinly sliced fresh sage
Polenta:
2 cups 2% reduced-fat milk
1 (14-ounce) can fat-free, less-sodium chicken broth
1 cup instant polenta
½ teaspoon salt
Direction:
To prepare pork, place each chop between 2 sheets of heavy-duty plastic wrap; pound to 1/4-inch thickness using a meat mallet or rolling pin. Arrange 1 prosciutto slice over each chop; top with 1 sage leaf and about 1 tablespoon cheese. Fold chops in half to sandwich filling, and secure with wooden picks. Sprinkle both sides of chops with pepper and 1/8 teaspoon salt. Place flour in a shallow dish; dredge stuffed chops in flour.
Heat oil in a large nonstick skillet over medium-high heat. Add chops; cook 3 minutes on each side or until done. Remove from pan; cover and keep warm.
Add wine to pan, scraping pan to loosen browned bits; cook until reduced to 1/4 cup (about 2 minutes). Add 1 cup broth; bring to a boil. Cook until reduced to 1/2 cup (about 5 minutes). Stir in 1 tablespoon sage. Reduce heat to medium. Return chops to pan; cook 2 minutes or until thoroughly heated, turning once.
To prepare polenta, bring milk and 1 can broth to a boil. Gradually stir in polenta and 1/2 teaspoon salt. Cover, reduce heat to medium-low, and cook 2 minutes. Serve polenta immediately with chops and sauce.
Recipe Source: https://www.myrecipes.com/recipe/pork-saltimbocca-with-polenta
Cannelloni Pork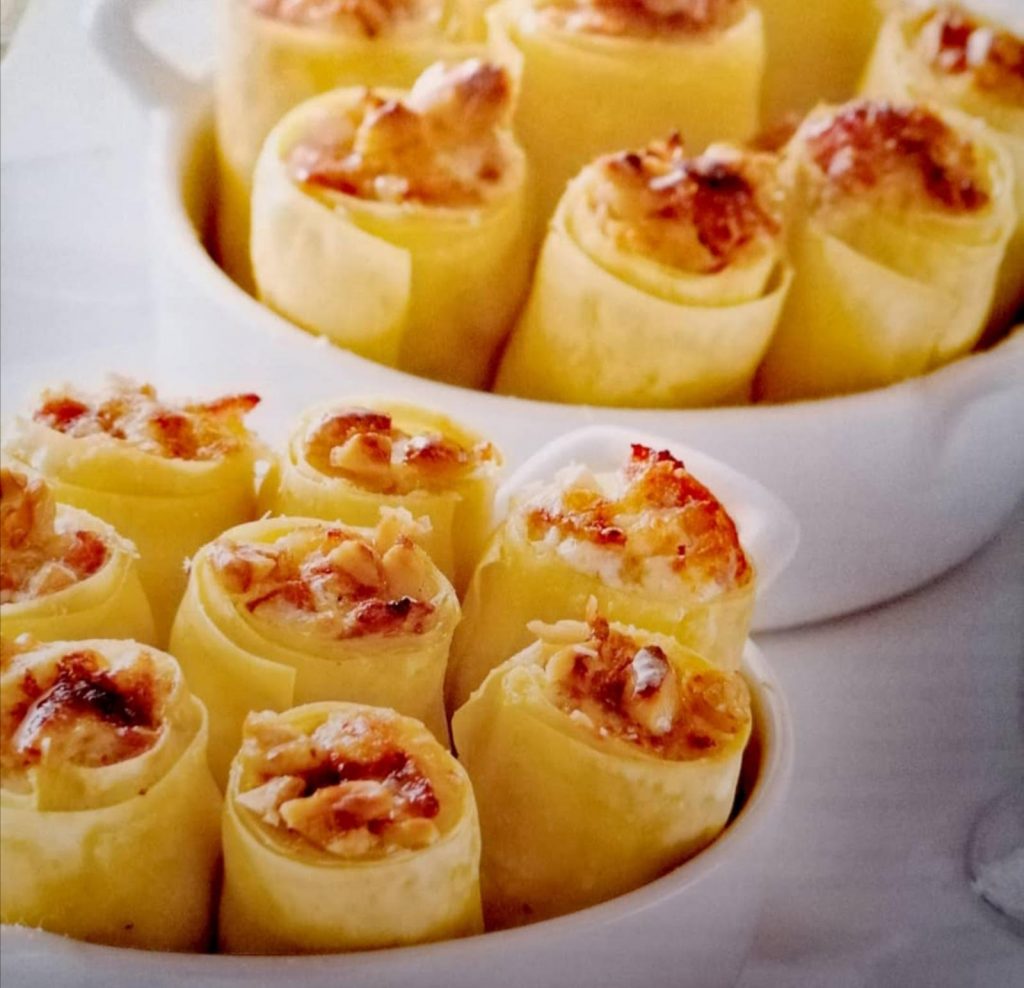 Cannelloni is an Italian word for large reeds. These are a cylindrical type of lasagna served baked with a filling and covered by a sauce in Italian cuisine. It can be filled with ground pork inside and other spices. This dish is often baked until the pasta is soft.
Scallopine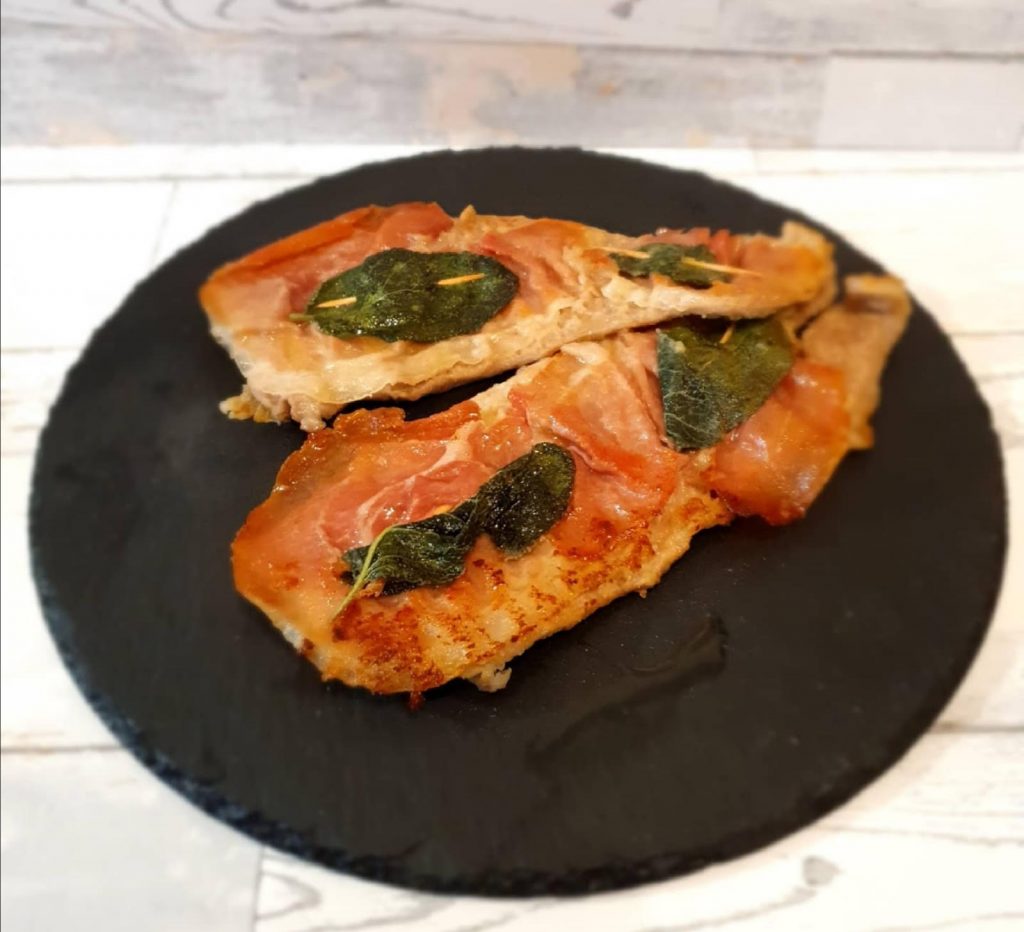 Scallopine is a thin, boneless slices of meat it can be sautéed or fried. Almost all restaurant in Italy offers this dish. They come with different type of meat, it can be veal, chicken or pork, depends on your preference. So, if you missed this dish don't worry you can make it in your own home. It's a very simple dish.
Ingredients:
4 thin boneless pork chops
8 fresh sage leaves
¼ cup all-purpose floue
Kosher salt and freshly ground black pepper
4 tablespoons butter divided
1 tablespoon vegetable oil
½ cup white wine
¼ cup capers
1 cup chicken stock
2 lemons juices
1 lemon sliced thinly
2 tablespoons Italian flat leaf parsley chopped
Directions:
Pound out the pork chops to 1/4 inch thickness. Press 2 sage leaves into one side of each of the pork chops. Mix the flour, kosher salt and ground black pepper in a large, shallow bowl or plate. Add the pork chops to the flour, one at a time, and flour each pork chop, gently turning on each side so the sage leaves stay on the pork chop. Gently tap off the excess flour.
Heat a large skillet on medium high. Melt 1 tablespoon of butter with 1/2 tablespoon of the oil. Place 2 of the pork chops in the skillet and cook for 3-5 minutes on each side, or until golden browned. Remove from the pan and set aside. Add 1 more tablespoon of butter and the remaining oil. Cook the remaining 2 pork chops and place with the other two cooked pork chops.
Wipe out any burned or really crispy bits out of the pan. Melt 1 tablespoon of the butter in the pan over medium high heat. Add the wine and capers and cook until reduced by half. Add the chicken stock, lemon juice and a few lemon slices and bring to a boil then add the remaining tablespoon of butter and stir, cooking for 2-3 minutes or until sauce thickens slightly. Add the pork back to the pan and warm in the sauce. Garnish with chopped parsley.
Porceddu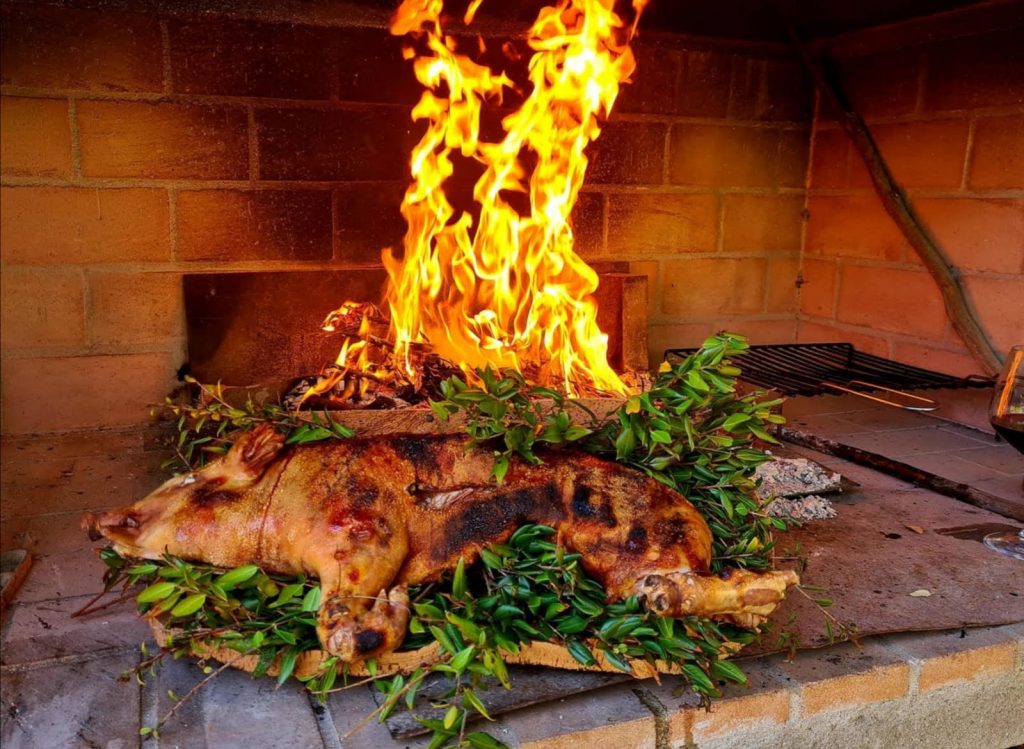 Porceddu is a traditional dish of Sardinian cuisine. This dish is one of the traditional dish that shows the history of Italian culture. Porceddu is also a famous street food in Italy and can be served with bread sandwich.
One commonly way and traditional way of cooking this dish is where a large pit is dug and covered with rocks. The pig is covered with coals and a huge fire is set. The coals are covered with aromatic leaves and roast for several hours. It is also advised that the pig used for this dish should only be 40 days old to make sure the meat is tender when cooked.
Porceddu is commonly served during Italian festivities and gatherings especially on weddings.
Pork meat has conquered all of the kitchens either in restaurants or even our houses. With so much ways and methods to prepare it, it become the most used meat. Most of the pigs body part can be used and cooked. Some parts of it has a special dish to cook it. No wonder many people prefer eating this meat because of its diversity and especially the taste.
So what are you waiting for? Maybe you can create your own pork dish.