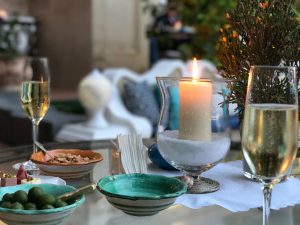 When one thinks of champagne, the first thought that comes to mind is usually France. However, Italy has a long and storied history with sparkling wine, and their champagne is not to be overlooked. Known as spumante, Italian champagne is a delightful and refreshing drink that is perfect for celebrations, meals, and everything in between.
Champagne has a long and interesting history in Italy, dating back to the early 19th century when French winemakers began traveling to Italy to escape the ravages of the phylloxera epidemic. These French winemakers introduced the champagne-making process to the Italians, and soon spumante began to rival French champagne in both quality and popularity.
Today, Italian champagne is made using the same process as French champagne, with a few key differences. For one, Italian champagne is often made using a blend of grape varieties, while French champagne is typically made using just three grape varieties: Chardonnay, Pinot Noir, and Pinot Meunier. Additionally, Italian champagne is usually fermented in stainless steel tanks, while French champagne is often fermented in the bottle.
One of the most famous regions for Italian champagne is the Franciacorta region in Lombardy, in the north of Italy. Franciacorta is known for producing some of the finest spumante in the world, thanks in part to the unique microclimate of the region. The soil in Franciacorta is rich in minerals and limestone, which gives the grapes a distinctive flavor profile. Additionally, the region is surrounded by mountains, which protect it from harsh winds and help to maintain a consistent temperature throughout the year.
Another region known for its spumante is the Conegliano Valdobbiadene region in Veneto, in the northeast of Italy. Conegliano Valdobbiadene is known for producing Prosecco, which is a slightly sweeter and less expensive version of spumante. However, the region also produces some high-quality spumante that is well worth trying.
One of the most interesting aspects of Italian champagne is the wide range of flavors and styles that are available. From dry and crisp to sweet and fruity, there is a spumante for every palate. Some of the most popular varieties include Brut, Extra Brut, and Demi-Sec, which range from bone-dry to sweet and syrupy.
If you're interested in trying Italian champagne for yourself, there are a few things to keep in mind. First, be sure to look for spumante that is labeled "metodo classico," which means that it is made using the traditional champagne-making process. Second, pay attention to the region where the spumante is made, as this can have a big impact on the flavor and quality of the wine. Finally, don't be afraid to experiment with different varieties and styles to find the one that best suits your tastes.
In addition to being delicious, Italian champagne is also steeped in history and tradition. For example, did you know that the tradition of clinking glasses together when toasting originated in Italy? Legend has it that the custom began during the time of the Roman Empire, when it was believed that the sound of clinking glasses would ward off evil spirits. Today, the tradition is still going strong, and is an integral part of Italian culture.
Another interesting fact about Italian champagne is that it was once considered a luxury item that was reserved only for the wealthy. However, thanks to advances in production and technology, spumante is now more affordable than ever, and is enjoyed by people from all walks of life.
In conclusion, Italian champagne is a delightful and unique drink that is well worth exploring. Whether you prefer a dry and crisp Brut or a sweet and fruity Demi-Sec, there is a spumante for every occasion. And with its rich history and tradition, Italian champagne is not just a drink, but a cultural experience.
One of the best ways to experience Italian champagne is to visit the wineries and vineyards where it is produced. Many wineries in regions such as Franciacorta and Conegliano Valdobbiadene offer tours and tastings, allowing visitors to learn about the champagne-making process and sample some of the finest spumante in the world.
In addition to visiting wineries, there are also many festivals and events dedicated to Italian champagne. For example, the Franciacorta Festival is held each year in September, and features tastings, workshops, and other events celebrating spumante. The Conegliano Valdobbiadene Prosecco Superiore Festival is another popular event, held in May and June each year, where visitors can taste some of the best Prosecco in the world.
In conclusion, Italian champagne is a unique and wonderful drink that is steeped in history, tradition, and culture. With its wide range of flavors and styles, there is a spumante for every occasion, and every palate. So if you haven't tried Italian champagne yet, why not raise a glass and discover the delicious and fizzy world of spumante for yourself? Cheers!