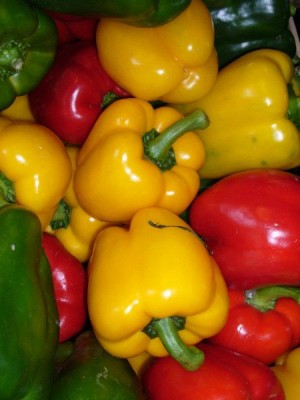 Bell peppers are no longer in the garden but in our freezer. We were recently snowed in and no salad in our fridge so I defrosted some peppers to make peperonata for dinner. As we ate, I asked my husband Pino what his mother usually served her four children along with the peperonata she made.
"Pane", was the answer. Bread? Just bread? When I asked Pino if it was served alongside of some chicken or cheese or with eggs "because a protein is more filling", Pino explained patiently, "Anna, we are not talking dietology here – or about nutrition. The point is hunger. Our stomachs were filled as best my mother could with what she had." If you make this peperonata, you can serve it as a side dish or pair it with just a good thick slice of bread: the meal years ago of many a Sicilian household.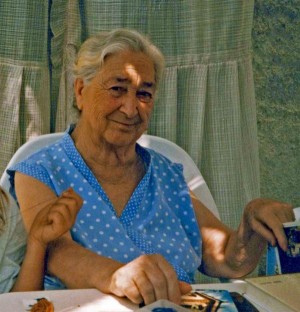 Peperonata Recipe
Here's the peperonata recipe of Pino's wonderful mother, Signora Vincenza. If any is leftover, do not refrigerate: simply enjoy the next day at room temperature. (Pino was about 15 when they finally had a refrigerator. Leftover peperonata remained on the kitchen shelf overnight – but he doesn't remember much ever "left over" of anything!)
Wash 5 or 6 bell peppers.
Slice into strips about 2 inches wide.
Cover stainless steel frying pan with olive oil.
Heat.
Add 2 whole garlic cloves and when garlic is golden, turn peppers into
sizzling oil, browning the pepper strips.
When peppers are blistered, pour in about 1 c. or more of wine vinegar.
Add about 1 1/2 tsp rock salt. Cook til wine vinegar is almost all evaporated.
In summer, add about 2 c. diced very ripe tomatoes (in other seasons, add 1 large can tomatoes).
Simmer until liquid of tomatoes evaporates.
Serve.
Note: all quantities are approximate as I learned this by watching my Sicilian mother-in-law make this dish. After all, "qb" (or quanto basta, i.e., "as much as necessary") is the most common Italian cookbook annotation!
Buon appetito!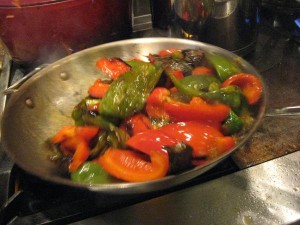 Thanks to Jerome Spector for the image of the bell peppers!