With its sparkling azure waters, charming coastal towns, and picturesque islands, Italy is a dream destination for those seeking a relaxing and scenic boat ride. From the rugged cliffs of the Amalfi Coast to the tranquil bays of Sardinia, there is no shortage of stunning seascapes to discover in this beautiful country.
One of the most popular destinations for a boat ride in Italy is the Amalfi Coast. This stretch of coastline, located in the Campania region, is known for its dramatic cliffs, colorful villages, and clear blue waters. A boat ride along the coast allows visitors to take in the breathtaking views from a unique perspective, as well as explore hidden coves and secluded beaches that are only accessible by sea.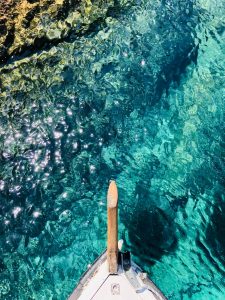 Another popular option is the island of Capri, located just off the coast of Naples. With its turquoise waters, towering cliffs, and glamorous atmosphere, Capri has been a favorite destination of the rich and famous for centuries. A boat ride around the island is a great way to see its most famous sights, including the Blue Grotto, a stunning sea cave with iridescent blue waters, and the Faraglioni, three iconic rock formations rising out of the sea.
Sardinia, the second-largest island in the Mediterranean, is another must-see destination for boat enthusiasts. With its crystal-clear waters and rugged coastline, Sardinia is home to some of the most beautiful beaches in Italy. A boat ride around the island offers a chance to explore hidden coves and bays, as well as visit some of its picturesque fishing villages and historic landmarks.
While Italy's coastlines are certainly breathtaking, there is more to discover on a boat ride than just the scenery. Italy's rich maritime history is also worth exploring, with many fascinating stories and legends associated with its ports and harbors.
For example, the city of Venice, with its iconic canals and gondolas, has a long and storied history as a center of trade and commerce. A boat ride along its winding waterways offers a chance to see some of its most famous landmarks, including the Rialto Bridge and St. Mark's Square, as well as learn about its fascinating history as a maritime power.
Similarly, the city of Genoa, located on the Ligurian coast, has a rich maritime heritage that dates back centuries. Known as the birthplace of Christopher Columbus, Genoa was once a powerful maritime republic and a major center of trade and commerce. A boat ride around its bustling harbor offers a glimpse into its fascinating history, as well as a chance to sample some of its delicious seafood and local specialties.
Whether you're interested in history, culture, or simply soaking up the sun and sea, a boat ride in Italy is sure to be an unforgettable experience. From the rugged coastline of the Amalfi Coast to the glamour of Capri and the tranquility of Sardinia, there is something for everyone to enjoy.
Trivia: Did you know that the iconic gondolas of Venice were once the main mode of transportation in the city? Today, they are mainly used for tourism, but there are still a few hundred gondolas in use, each one handmade by skilled artisans using traditional techniques.
In conclusion, a boat ride in Italy is a unique and unforgettable way to explore its stunning coastline and rich maritime history. Whether you're a seasoned sailor or a first-time boater, there is something for everyone to discover on the sparkling waters of the Mediterranean. So why not set sail and discover the beauty and charm of Italy from a whole new perspective?