Mia Fiore is a leader in the Italian jewelry market, and for good reason. Established behind the ambition of a burgeoning fashionista in the late 1980s, Mia Fiore's designs have earned profits far in excess of that initial investment throughout the years. Here is a look at what makes Mia Fiore so desirable to both devoted fans and casual admirers of fine Italian jewelry.
The beauty and rustic warmth of the Mediterranean is immediately identifiable in each Mia Fiore creation. Referred to as "the real Italian style," jewelry from the Mia Fiore brand stands out for its engaging mix of colors and metals, often lending a vibrant and energetic pulse to any potential wearer's wardrobe. Each piece is a diligent blend of tradition and modernism, allowing for a timeless and also current aesthetic. Special attention is paid to attention to detail, ensuring that every piece looks exquisite and unique.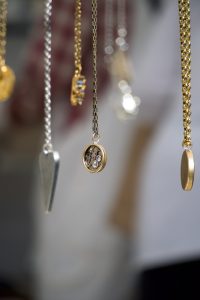 Mia Fiore's choice of materials upholds its Italian pedigree, and their gold and sterling silver collections boast several precious gems, including the iconic Italianate topaz – says to induce good fortune, trust and abundance. Diamonds are also common, drawing from a long cultural relationship, and Mia Fiore ensures each sparkling gem is ethically sourced. Carefully selected beads are also employed in several pieces, lending just the right splash of color that so often makes the difference between an alright piece of jewelry and a stunningly original one.
Mia Fiore jewelry is made in Italy, and the company prides itself on upholding traditional craftsmanship and its regional origin. Every part of the creative process is done in-house, from the design to the assembling – no subcontracted factories were involved in the making. This attention to detail and dedication to the craft of jewelry making ensures that each item is built to last, with an eye on the future and not just a passing trend. What's more, Mia Fiore jewelry is tested to international safety standards and after-sales services are available in English, French and Italian.
The variety of Mia Fiore's offerings is extensive. An extensive range of jewelry styles is offered including earrings, bracelets and necklaces, tassel earrings, chokers and even pendants to make sure the jewelry remains interesting to a wide audience. Regardless of whichever Mia Fiore piece a customer purchases, there is no doubt about the high quality of craftsmanship and attention to detail that has gone into its construction.
Trivial Tidbit: Did you know that Mia Fiore is the namesake of its founder and means "My Flower" in Italian?
In conclusion, Mia Fiore is more than just a name in the world of Italian jewelry. Its roots lie deep in a Meditterean tradition of artisanship, and its products have been designed with the intent of helping its customers to make a statement with every wearing. Quality and craftsmanship is paramount to everything Mia Fiore does and the results speak for themselves. Even if this jewelry is out of your price range, it is well worth admiring for its beauty and its energy. To find out more about Mia Fiore and the real Italian style, visit miafiore.it today.