However, there is one natural wonder in Italy that demands attention and awe – the mighty Mount Etna, one of the most active volcanoes in the world. Located on the east coast of Sicily, Mount Etna has a rich and fascinating history that has been shaped by its fiery eruptions.
Mount Etna, also known as "Mongibello" by locals, is a stratovolcano that has been active for over 500,000 years. It is the highest active volcano in Europe, standing at an impressive height of 3,329 meters (10,922 feet) above sea level. The volcano is also one of the most studied and monitored in the world, with scientists constantly monitoring its activity to predict eruptions and protect the surrounding communities.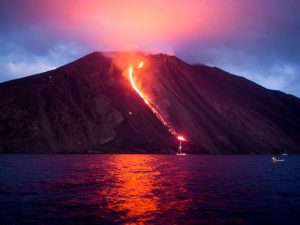 Over the centuries, Mount Etna has been both a blessing and a curse for the people living in its shadow. The fertile soil surrounding the volcano is perfect for agriculture, producing some of the finest wine, olive oil, and citrus fruits in the world. However, the volcano's destructive power has also caused numerous tragedies throughout history, with devastating eruptions destroying towns and villages, causing widespread panic, and claiming countless lives.
One of the most significant eruptions in recent history occurred in 1669 when lava flows destroyed the city of Catania and its harbor, leaving thousands dead and many more homeless. In 1928, another eruption caused a devastating earthquake that killed over 150 people and destroyed entire towns. More recently, in December 2018, a powerful eruption caused a spectacular display of lava and ash that forced the closure of nearby airports and left hundreds of tourists stranded.
Despite its destructive potential, Mount Etna also attracts millions of visitors every year who come to witness its awe-inspiring beauty and learn about its geological significance. The volcano is a popular destination for hikers, with several trails leading up to its summit, offering breathtaking views of the surrounding landscape. Visitors can also take guided tours of the volcano's lava caves, which were formed by past eruptions and offer a glimpse into the volcano's inner workings.
Another unique aspect of Mount Etna is its cultural significance. The volcano has been the subject of countless works of art, literature, and music, inspiring artists and writers for centuries. In Greek mythology, Mount Etna was said to be the forge of Hephaestus, the god of fire, who created weapons and armor for the gods. The Roman poet Virgil also referenced the volcano in his epic poem "The Aeneid," describing it as a "smoking mountain, belching out flames of fire."
Mount Etna's rich history and cultural significance have made it an important part of Sicilian identity. In 2013, it was designated a UNESCO World Heritage Site, recognizing its natural beauty, cultural significance, and scientific value. The designation also highlights the need for continued efforts to protect the volcano and the surrounding environment.
In conclusion, Mount Etna is an awe-inspiring wonder of nature that has captivated people for centuries. Its beauty and power are a testament to the incredible forces that shape our planet, and its significance in Sicilian culture and history make it a truly unique destination. While the volcano's eruptions can be dangerous and destructive, they also remind us of our vulnerability and the importance of respecting nature. So, the next time you're in Italy, make sure to take a trip to Mount Etna and witness the mighty fury of one of the world's most active volcanoes.