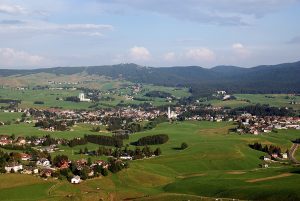 Nestled in the heart of the Veneto region, Asiago is a picturesque town that exudes charm and tranquility. Its name is derived from the Asiago Plateau, a vast plain that spreads across the Veneto and Trentino regions. Asiago is well-known for its cheese, which is a local specialty and has been recognized as a protected designation of origin (PDO) product by the European Union. But there's more to Asiago than just cheese; it has a rich history, breathtaking natural scenery, and a vibrant culture that make it a must-visit destination.
History and Culture
Asiago's history dates back to the Roman era when it was a strategic military outpost. It remained a small rural town until the 19th century when it became a popular destination for wealthy visitors seeking to escape the summer heat of the Venetian plains. The town's development was further accelerated when it became a frontline during World War I. The war left its mark on the town, and visitors can still see the trenches and fortifications that were built during that time.
Asiago's architecture is a mix of styles, reflecting its diverse history. The town's main square, Piazza Carli, is surrounded by beautiful neoclassical buildings, while the old town has narrow streets and houses with traditional Alpine architecture. One of the town's most impressive buildings is the Duomo di San Matteo, a beautiful Baroque church that was built in the 17th century. It is home to a remarkable collection of paintings and sculptures, including works by renowned artists such as Jacopo Bassano and Giovanni Battista Tiepolo.
Cheese and Gastronomy
Asiago cheese is undoubtedly the town's most famous product, and it has been produced in the area for over a thousand years. The cheese is made from cow's milk and is available in two varieties: fresh and aged. The fresh cheese is soft and creamy, while the aged cheese has a harder texture and a more intense flavor. Both varieties are delicious and are used in a variety of dishes, including pasta, soups, and salads.
Apart from cheese, Asiago is also known for its other culinary delights. The town's restaurants serve a range of traditional dishes, such as risotto, polenta, and grilled meats. The local wine, made from grapes grown on the nearby hills, is also worth trying.
Natural Beauty
Asiago is located on the Asiago Plateau, which offers spectacular views of the surrounding mountains and valleys. The plateau is a popular destination for hikers, mountain bikers, and skiers, and it has a network of well-marked trails that take visitors through stunning landscapes. One of the most popular hikes is the Sentiero della Pace, a trail that follows the World War I front line and offers a glimpse into the region's history.
In addition to hiking, visitors can also enjoy other outdoor activities, such as fishing, horse riding, and golf. The town's parks and gardens are also worth a visit, particularly during the spring and summer months when they are in full bloom.
Trivia
Asiago is home to one of the oldest bell foundries in the world, the Fonderia Pontificia Marinelli. The foundry has been in operation since 1339 and still uses traditional techniques to make bells of all shapes and sizes.
Asiago has a long tradition of woodcarving, and visitors can see examples of this art form in the town's churches and museums. The town hosts an annual woodcarving festival in July, which attracts artisans from all over Italy.
The Asiago plateau is the birthplace of the Italian skiing tradition, and the first ski lift in Italy was installed on the plateau in 1936. Today, the plateau is a popular destination for winter sports enthusiasts, with several ski resorts offering a range of slopes for all levels of experience.
Asiago is home to a number of museums that offer a fascinating insight into the town's history and culture. The Asiago War Memorial Museum, for example, has a collection of artifacts from World War I, including weapons, uniforms, and documents. The Museo degli Alpini, on the other hand, celebrates the achievements of the Italian Alpine troops and showcases their equipment and uniforms.
The town of Asiago is also famous for its ice cream, which is made with fresh local ingredients and comes in a variety of flavors. One of the most popular flavors is Stracciatella, which is made with chocolate chips and cream.
Asiago is located in the Veneto region, which is also home to other popular destinations such as Venice, Verona, and Lake Garda. Visitors to Asiago can easily explore these other destinations and enjoy the region's rich history, culture, and natural beauty.In conclusion, Asiago is a hidden gem of Italy that offers visitors a unique blend of history, culture, gastronomy, and natural beauty. Its picturesque landscape, delicious cuisine, and rich history make it a must-visit destination for anyone traveling to the Veneto region. Whether you're a history buff, a foodie, or an outdoor enthusiast, Asiago has something to offer for everyone. So why not plan a trip to Asiago and discover this hidden gem for yourself?