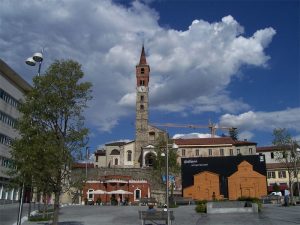 Nestled in the heart of Lombardy, Cantu is a small town that boasts a rich cultural heritage and a strong sense of community. Despite its relatively small size, Cantu is a town that has played an important role in Italian history, particularly in the fields of art, architecture, and music. In this article, we will explore the history and culture of Cantu, as well as some of the town's unique features and trivia.
The town of Cantu is believed to have been founded in the 5th century AD by the Celts, who named it "Canturium." Over the centuries, Cantu grew in importance and prosperity, particularly during the Renaissance, when it became a center for art and architecture. Many of Cantu's most famous buildings date back to this period, including the Basilica di San Vincenzo, a beautiful church that was built in the 16th century.
One of the most striking features of Cantu is its historic center, which is characterized by narrow, winding streets and picturesque piazzas. The town is also home to several impressive villas and palaces, many of which were built by wealthy families during the Renaissance. Among the most notable of these are the Villa Calvi, a beautiful 16th-century villa that is now a museum, and the Palazzo Garovaglio, an elegant 18th-century palace that is now used as a cultural center.
Another important aspect of Cantu's cultural heritage is its musical tradition. The town is home to several choirs and music schools, and it has produced many notable musicians over the years, including the composer and conductor Lorenzo Perosi. In fact, Cantu is so renowned for its musical heritage that it hosts an annual international choir competition, which draws choirs from all over the world.
Despite its rich history and cultural heritage, Cantu is a town that is firmly rooted in the present. The town's community is closely knit, and its residents take great pride in their traditions and way of life. Visitors to Cantu will find a warm welcome and plenty of opportunities to immerse themselves in the town's culture, whether by attending a concert or festival, sampling local cuisine, or simply strolling through the historic streets.
Some interesting trivia about Cantu:
Cantu is known for its production of silk, which has been a major industry in the town for centuries. Today, the town is home to several textile companies that specialize in silk production.
Cantu is located at the foot of the Prealps, a beautiful mountain range that is popular with hikers and outdoor enthusiasts.
The town is famous for its cheese, particularly the "formaggella di Cantu," a soft cheese that is typically served with honey and walnuts.
In conclusion, Cantu is a town that is rich in history, culture, and tradition. Its beautiful architecture, music scene, and warm community make it a must-visit destination for anyone interested in Italian culture. Whether you're a history buff, a music lover, or simply looking for a charming Italian town to explore, Cantu is a destination that won't disappoint.