When it comes to the Italian Alps, most people think of famous skiing destinations like Courmayeur or Cortina d'Ampezzo. However, there is a hidden gem that many tourists have yet to discover: Casa Alpina.
Located in the heart of the charming town of Valdisotto, Casa Alpina offers a unique Alpine experience that combines comfort, adventure, and relaxation.
The hotel is built in the traditional Alpine style, with wooden balconies and stone walls, giving it a rustic feel that blends perfectly with its natural surroundings. It offers 21 cozy and comfortable rooms, each with its own unique charm and personality.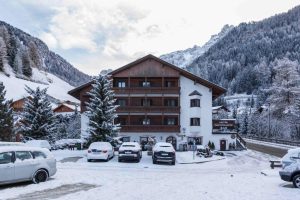 One of the highlights of Casa Alpina is its exceptional location. Situated in the Stelvio National Park, the hotel is surrounded by breathtaking landscapes that are ideal for outdoor activities like hiking, biking, and skiing.
The hotel also offers a range of services and facilities to make your stay as comfortable and enjoyable as possible. There is a sauna and hot tub where you can relax after a day of exploring the mountains, a bar where you can enjoy a drink with friends or family, and a restaurant that serves delicious local cuisine.
But Casa Alpina is more than just a hotel. It is a place where you can experience the authentic Alpine way of life and immerse yourself in the local culture.
The town of Valdisotto is known for its rich history and traditions, and Casa Alpina is the perfect base from which to explore them. You can visit the nearby villages and towns, taste local delicacies, and learn about the local crafts and customs.
One interesting fact about Casa Alpina is that it is run by a cooperative of local farmers and artisans. This means that the hotel is not just a business but also a community project that supports the local economy and promotes sustainable tourism.
In addition to its cultural and social values, Casa Alpina also has a strong environmental commitment. The hotel uses renewable energy sources, recycles waste, and promotes responsible tourism practices.
So, if you're looking for a unique and authentic Alpine experience, Casa Alpina is definitely worth a visit. Whether you're a nature lover, a culture enthusiast, or just looking for a peaceful retreat, this hidden gem in the Italian Alps will exceed your expectations.
In conclusion, Casa Alpina is a rare find that offers a glimpse into the genuine Alpine lifestyle. Its natural beauty, cultural richness, and social and environmental responsibility make it a truly unique destination that should not be missed.