Nestled on the western shores of Lake Como in northern Italy, Laglio is a picturesque village that has been a well-kept secret among locals for years. With its charming cobblestone streets, colorful houses, and stunning views of the lake and surrounding mountains, Laglio is a hidden gem that is just waiting to be discovered.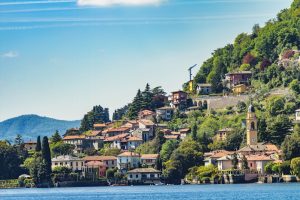 While Laglio may not be as well-known as some of the other towns and villages around Lake Como, it has been gaining popularity in recent years thanks to a famous resident who has put the village on the map – actor George Clooney. The Hollywood superstar fell in love with Laglio when he bought Villa Oleandra, a beautiful lakeside property, in 2002. Since then, Laglio has become a popular destination for fans of the actor and travelers looking for a taste of authentic Italian village life.
One of the most striking things about Laglio is its stunning natural surroundings. The village is situated on the banks of Lake Como, one of the largest and most beautiful lakes in Italy. The lake is surrounded by steep mountains and dense forests, and its crystal-clear waters are a deep shade of blue-green. The scenery is truly breathtaking, and visitors to Laglio will be awed by the beauty of their surroundings.
In addition to its natural beauty, Laglio is also home to a number of historic landmarks and cultural attractions. One of the most impressive is the 12th-century Church of San Giorgio, which is located in the heart of the village. The church is a beautiful example of Romanesque architecture, with its simple stone facade and elegant bell tower. Inside, visitors can admire a number of beautiful frescoes and religious artifacts, including an ancient baptismal font.
Another must-see attraction in Laglio is the beautiful Villa Oleandra, which is owned by George Clooney. The villa is situated on the lakeshore and boasts beautiful gardens, a swimming pool, and stunning views of the lake and surrounding mountains. While the villa is not open to the public, visitors can admire it from the lake or from the nearby public park.
When it comes to dining in Laglio, visitors will find plenty of options to suit every taste and budget. The village is home to several excellent restaurants and cafes, many of which offer traditional Italian cuisine made with fresh, locally-sourced ingredients. One of the most popular restaurants in Laglio is Ristorante La Locanda del Cantiere, which is known for its delicious seafood dishes and romantic lakeside setting.
If you're looking for a unique and memorable travel experience, Laglio is definitely worth a visit. Whether you're a fan of George Clooney or simply looking for a beautiful and peaceful place to relax and unwind, this charming Italian village is sure to delight and enchant you. So pack your bags, book your tickets, and get ready to discover the magic of Laglio!
Trivia:
Laglio is home to just over 900 residents.
The village has a long and storied history, dating back to Roman times.
In addition to George Clooney, Laglio has also been visited by a number of other famous people over the years, including Winston Churchill and Konrad Adenauer.
Laglio is known for its delicious local cuisine, including traditional dishes like risotto alla milanese and osso buco.