Nested in the Bay of Naples, Castellammare di Stabia stands out from its Italian neighbors as the city with the longest name in the entire country. Its name translates to "the Tower of Stabies", and it was originally derived from the many towers in the city walls that protected it in the Medieval Ages. The surrounding gulf waters and the colourful history of the old castles were the main attractions of this unique destination.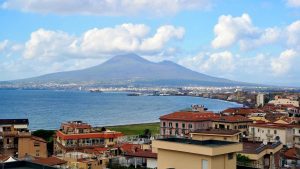 Starting with the Ancient Age and crossing through the Medieval, Renaissance and Baroque Eras, Castellammare di Stabia has been the story of a gradual growth and evolution that reflects in its preserved buildings and monuments. Intricate religious buildings, ruins of villas scattered around the landscape, and even some testimonies of Greek and Roman settlements still exist today and make up part of the local history. Thus, this city can truly be considered as a window that lets viewers peek into the past.
From little Byzantine churches to seafront buildings and palaces, this destination offers an array of attractions that can satisfy different tastes. The Santa Maria a Mare church is the perfect example of an Early Christian basilica and there are other buildings, walls, and tombs left from the Byzantine domination. A Palaeo-Christian area has been set up to ensure the preservation of these ancient masterpieces.
The ancient connections between Castellammare di Stabia and the elite of Europe occupy an important place in its history. Among the remains of this period, an underground palace that was once the residence of the biggest Napoleon's generals stands out. But what made the city rise again was its flourishing commerce in the sea after the Bourbon domination. Numerous buildings testify to this, like the enchanting Piazza Quarto and the Marine Station, today appreciated for their picturesque atmosphere and breathtaking views of the Gulf of Naples.
Apart from being the city with the longest name in Italy, Castellammare di Stabia has plenty to offer with an incredibly rich past and picturesque locations. It is also home to a vast array of old churches, villas, and buildings that preserve part of the city's past and make it a fascinating touristic spot. From the ruins of the Norman castled and the Palaeo-Christian remains, to the old villas and underground palace of a Bourbons empire, Castellammare di Stabia is the perfect combination of history and charm.