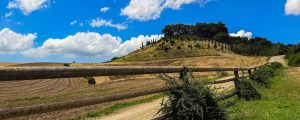 Nestled in the heart of Tuscany lies the charming village of Lajatico, known for its picturesque hills, breathtaking landscapes, and its famous son, Andrea Bocelli. Although it is not as popular as its neighboring cities, such as Florence and Pisa, Lajatico is a hidden gem worth exploring.
Lajatico is a small village with a population of just over 1,000 people. Its narrow streets, old stone houses, and medieval architecture give it a unique atmosphere that takes you back in time. The village sits atop a hill that overlooks the surrounding countryside, providing a stunning view of the Tuscan landscape.
One of the main attractions of Lajatico is the Teatro del Silenzio, a unique open-air amphitheater built in a natural hollow in the hills. The theater was designed by Andrea Bocelli himself and hosts an annual concert every July. The concert is attended by thousands of people from all over the world who come to see the famous tenor perform with other renowned artists. The rest of the year, the theater remains silent, blending seamlessly into the surrounding landscape.
Another must-see attraction in Lajatico is the Church of San Leonardo, a beautiful 12th-century Romanesque church located in the heart of the village. The church features an exquisite altarpiece by Matteo di Giovanni and a beautiful baptismal font made of pietra serena, a type of sandstone found in the region.
If you're looking to experience the local cuisine, Lajatico has a number of excellent restaurants serving traditional Tuscan dishes. Some of the most popular dishes include ribollita, a hearty vegetable soup made with stale bread and beans, and pappardelle al cinghiale, a pasta dish with a rich wild boar sauce.
For those who love the outdoors, Lajatico is surrounded by beautiful hiking trails that offer stunning views of the countryside. One of the most popular trails is the Sentiero delle Balze, a 6-kilometer trail that takes you through forests, vineyards, and olive groves, ending with a panoramic view of the valley below.
Lajatico also hosts a number of cultural events throughout the year, including the Lajatico Jazz Festival, the Festa del Borgo, and the Mercato del Gusto, a food and wine festival held every September.
Interestingly, Lajatico has a long history of artisanal craftsmanship, particularly in the field of ceramics. The village is home to a number of ceramic workshops where you can see skilled artisans at work and even take a pottery class.
In conclusion, Lajatico may be a small village, but it is full of charm and character. Whether you're interested in history, art, music, food, or nature, there is something for everyone to enjoy in this hidden gem of Tuscany. So, if you're looking for a unique and off-the-beaten-path destination, Lajatico is definitely worth a visit.