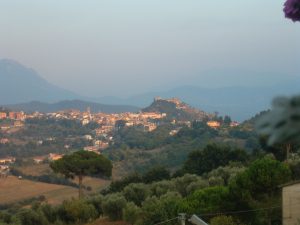 Italy is a country filled with wonders that attract travelers from all over the world. From the bustling cities of Rome, Florence, and Venice to the charming coastal towns of the Amalfi Coast, the country offers something for everyone. However, there are still hidden gems that remain undiscovered by most tourists. One such place is the enchanting village of Caiazzo.
Caiazzo is a small town located in the region of Campania, about 30 kilometers north of Naples. The town has a rich history dating back to the Roman era, and it played an important role in the Middle Ages as a strategic military outpost. Today, Caiazzo is known for its beautiful architecture, delicious food, and warm hospitality.
One of the most striking features of Caiazzo is its historic center, which is dominated by the impressive Castle of Caiazzo. The castle was built in the 11th century and served as a fortress for the Duchy of Benevento. Today, the castle is open to the public and offers stunning views of the town and the surrounding countryside.
Another must-see attraction in Caiazzo is the Church of Santa Maria Maggiore. This beautiful church dates back to the 12th century and features a stunning façade decorated with intricate carvings and sculptures. Inside the church, visitors can admire beautiful frescoes and artwork, including a painting of the Last Judgment by the famous Neapolitan painter Luca Giordano.
One of the most unique experiences in Caiazzo is a visit to the local mozzarella di bufala factory. Mozzarella di bufala is a type of cheese made from the milk of water buffaloes, and it is a specialty of the Campania region. At the factory, visitors can learn about the production process and sample the delicious cheese fresh from the source.
Caiazzo is also known for its delicious cuisine, which features a mix of local and regional specialties. One of the most famous dishes is the sagne e fagioli, a hearty pasta dish made with homemade noodles and beans. Other must-try dishes include the stuffed zucchini flowers, the local salami, and the famous Neapolitan pizza.
For those interested in outdoor activities, Caiazzo is surrounded by beautiful countryside perfect for hiking and cycling. The town is also located near the famous Royal Palace of Caserta, a UNESCO World Heritage site that is a must-see for history and architecture lovers.
As for trivia, Caiazzo has a unique tradition of celebrating the feast of St. Sebastian with a fascinating horse race. The race takes place in the town's main square, where riders compete to grab a flag attached to a pole while riding at breakneck speed. The event is a thrilling spectacle that attracts visitors from all over the region.
In conclusion, Caiazzo is a hidden gem that deserves to be discovered by anyone who loves history, culture, and delicious food. With its stunning architecture, warm hospitality, and unique traditions, Caiazzo is a town that will leave a lasting impression on anyone who visits.