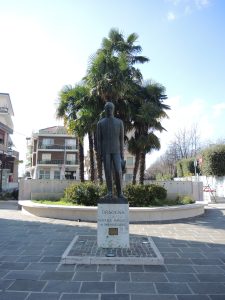 Nestled in the Abruzzo region of central Italy, Orsogna is a small town that may not be as well-known as other Italian destinations, but it is definitely worth a visit for those who love history, nature, and authentic Italian culture. With a population of around 6,000 people, Orsogna is a hidden gem that offers visitors a glimpse of the real Italy, away from the crowds of tourists and the hustle and bustle of big cities.
One of the main attractions of Orsogna is its rich history, which dates back to the Roman times. The town's strategic location, between the Adriatic Sea and the Maiella mountains, made it a desirable place for many invaders and conquerors throughout the centuries. As a result, Orsogna has a fascinating mix of architectural styles and cultural influences, from Roman ruins and medieval castles to Baroque churches and Renaissance palaces.
One of the most impressive landmarks of Orsogna is the Castello Ducale, a massive fortress that dominates the town's skyline. Built in the 14th century, the castle was originally a Norman fortress that was later expanded and renovated by various rulers. Today, the Castello Ducale is a museum that houses a collection of artifacts and paintings from different periods of Orsogna's history.
Another must-see attraction in Orsogna is the Chiesa di San Tommaso Apostolo, a beautiful church that combines Gothic and Baroque elements. The church's main altar, decorated with precious marble and gilded stucco, is a masterpiece of Italian Baroque art. Other notable churches in Orsogna include the Chiesa di San Francesco and the Chiesa di Santa Maria della Pace, both of which have impressive frescoes and sculptures.
Aside from its historical and cultural attractions, Orsogna also offers visitors plenty of opportunities to enjoy the great outdoors. The town is surrounded by rolling hills, vineyards, and olive groves that produce some of Italy's finest wines and olive oils. Visitors can take a leisurely hike or bike ride along the many trails that crisscross the countryside, or simply relax and enjoy the stunning views of the Adriatic Sea and the Maiella mountains.
One of the best times to visit Orsogna is during its many festivals and events, which are held throughout the year. The most famous of these is the Festa di San Rocco, a religious festival that takes place every August and attracts thousands of pilgrims and tourists from all over Italy. The festival features processions, fireworks, and traditional music and dance performances, as well as plenty of delicious food and wine.
For those who love culinary delights, Orsogna has plenty to offer. The town's cuisine is a delicious mix of traditional Italian dishes and local specialties, such as arrosticini (grilled lamb skewers), porchetta (roast pork), and scrippelle 'mbusse (crepes in broth). Orsogna is also famous for its wine production, particularly its Montepulciano d'Abruzzo, a red wine that is widely regarded as one of Italy's best.
Trivia:
Orsogna is the birthplace of several notable Italian figures, including the writer Ignazio Silone, the painter Francesco Paolo Michetti, and the tenor Aureliano Pertile.
In the 19th century, Orsogna was one of the main centers of the Italian Risorgimento, the political and social movement that led to the unification of Italy.
Orsogna's coat of arms features a red bear holding a gold spear, a symbol that dates back to the town's ancient origins. According to legend, the town was founded by a group of Greek warriors who were led by a bear to the spot where Orsogna now stands. The bear, which is still a symbol of the town, is said to have protected the warriors from their enemies and helped them to establish a settlement.
Today, Orsogna is a charming and welcoming town that is proud of its heritage and traditions. Its residents are known for their hospitality and their love of good food, wine, and music. Visitors to Orsogna can expect to be greeted with warmth and enthusiasm, and to be treated to a taste of authentic Italian culture that is both timeless and modern.
In conclusion, Orsogna is a hidden gem that deserves to be discovered by anyone who loves Italy and all that it has to offer. Whether you are interested in history, culture, nature, or simply enjoying the good life, Orsogna has something for everyone. So why not plan a trip to this beautiful town and experience the magic of Orsogna for yourself?