Italy is known for its picturesque towns and cities, each one offering a unique experience to visitors. One such town that deserves a mention is Giulianova, a quaint little coastal town located on the Adriatic coast. With its stunning beaches, historic architecture, and vibrant culture, Giulianova has a lot to offer tourists who are looking for a relaxed vacation away from the crowds.
Giulianova is a town steeped in history, dating back to Roman times. The town was named after Julius Caesar and became an important center of trade during the Middle Ages. Today, visitors can still see the town's medieval walls, which were built to protect it from invaders. The town's historic center, located on a hill overlooking the sea, is a maze of narrow streets and alleys, dotted with charming little shops and cafes.
One of the highlights of Giulianova is its long stretch of golden sand beaches, which attract tourists from all over the world. The beaches are clean and well-maintained, with plenty of facilities for visitors, including sun loungers, umbrellas, and beach bars. The water is clear and inviting, making it the perfect place for swimming, sunbathing, and water sports.
For those who prefer a more cultural experience, Giulianova has plenty to offer. The town's main church, the Chiesa di San Flaviano, is a stunning example of Baroque architecture and is well worth a visit. The church contains a number of beautiful frescoes and paintings, including works by the famous Italian artist, Carlo Maratta.
Another cultural attraction in Giulianova is the Palazzo Ducale, a historic palace that was once the residence of the town's ruler. Today, the palace has been converted into a museum, which contains a number of important artworks and artifacts from the town's history. Visitors can take a guided tour of the museum and learn more about the town's fascinating past.
Giulianova is also famous for its food and wine, with plenty of restaurants and bars serving up delicious local cuisine. The town's specialties include seafood, pasta, and wines from the nearby hills of Abruzzo. Visitors can also take part in wine tasting tours and visit local vineyards to learn more about the region's famous wines.
As for trivia, did you know that Giulianova was once a popular destination for pilgrims? In the Middle Ages, the town was an important stop on the pilgrimage route from Rome to Santiago de Compostela in Spain. Pilgrims would stop in Giulianova to visit the Chiesa di San Flaviano and to seek the protection of the town's patron saint, Flavian of Ricina.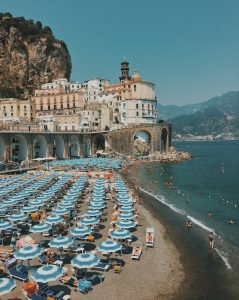 In conclusion, Giulianova may not be as well-known as some of Italy's more famous cities, but it is certainly a hidden gem that is well worth a visit. With its stunning beaches, historic architecture, and vibrant culture, the town offers something for everyone. Whether you are looking for a relaxing beach vacation or a cultural experience, Giulianova is sure to exceed your expectations.