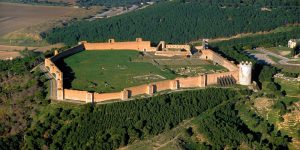 Located in the Apulia region of southern Italy, Lucera is a city that is often overlooked by tourists. However, it is a city with a rich history, stunning architecture, and delicious cuisine. In this article, we will explore the history, culture, and attractions that make Lucera a hidden gem in Italy.
History of Lucera
Lucera has a long and complex history. The city was founded by the ancient Greeks and later became a Roman colony. During the Middle Ages, Lucera was ruled by various groups, including the Byzantines, the Normans, and the Swabians. The Swabians, in particular, had a significant impact on the city, as they built many of the stunning buildings that can still be seen today.
In the 13th century, Lucera became an important center for Islamic culture in Italy. The city was home to a large Muslim population, who were brought to Lucera as prisoners of war. Despite being imprisoned, the Muslims were allowed to practice their religion and develop their culture. As a result, Lucera became known as the "city of mosques."
Culture and Cuisine of Lucera
The influence of Islamic culture can still be seen in Lucera today. The city's historic center is filled with narrow, winding streets and white-washed houses, reminiscent of a North African medina. The local cuisine also reflects this cultural influence, with many dishes featuring Middle Eastern spices and ingredients.
One of the most popular dishes in Lucera is tiella, a baked dish made with layers of potatoes, rice, mussels, and tomatoes. Another local specialty is panzerotti, a type of fried pastry filled with cheese and tomato sauce. And of course, no trip to Lucera would be complete without trying the local wine, which is made from the region's indigenous grapes.
Attractions in Lucera
Despite its small size, Lucera has many attractions that are worth visiting. One of the most impressive is the Cathedral of Santa Maria Assunta, a stunning example of Swabian architecture. The cathedral was built in the 13th century and features intricate stone carvings and a beautiful rose window.
Another must-see attraction in Lucera is the Castle of Lucera. The castle was built in the 13th century by the Swabian king, Frederick II, and is one of the largest castles in southern Italy. Visitors can explore the castle's ramparts, towers, and dungeons and enjoy panoramic views of the surrounding countryside.
For those interested in Islamic history, the Palazzo del Vescovo is a must-visit attraction. The palace was built in the 13th century and was once home to the bishop of Lucera. However, during the Muslim period, the palace was converted into a mosque and still features many Islamic architectural elements, such as a mihrab and a minaret.
Trivia About Lucera
Here are some interesting facts about Lucera that you might not know:
Lucera was once known as the "city of lions," due to the large number of lions that were kept in the city's zoo during the Middle Ages.
The city's historic center is surrounded by a 13th-century wall, which is still largely intact today.
Lucera was the birthplace of the philosopher and theologian Pietro Pomponazzi, who was a major figure in the Italian Renaissance.
The city's name comes from the Latin word lucus, which means "sacred grove." This refers to a grove of oak trees that once stood near the city.
Conclusion
Lucera may not be as well-known as other Italian cities, but it is a hidden gem that is well worth a visit. With its rich history, stunning architecture, delicious cuisine, and unique culture, Lucera offers visitors a chance to explore a different side of Italy. Whether you're interested in Islamic history, Swabian architecture, or simply enjoying good food and wine, Lucera has something to offer.
Despite its small size, Lucera has managed to preserve its cultural and historical heritage. The city's streets are lined with beautiful buildings and landmarks, many of which date back to the Middle Ages. As you wander through the city, you'll find yourself transported back in time, imagining what life was like in centuries past.
One of the things that makes Lucera so special is its unique blend of cultures. The city's history as a center for Islamic culture is still evident today, in its architecture, cuisine, and even in the local dialect. However, Lucera also has strong ties to Italian culture, particularly in its love of food and wine.
If you're planning a trip to Italy and want to experience something a little off the beaten path, consider adding Lucera to your itinerary. With its rich history, unique culture, and stunning attractions, it's a city that is sure to leave a lasting impression. Whether you spend a day or a week in Lucera, you're sure to fall in love with its charm and beauty.