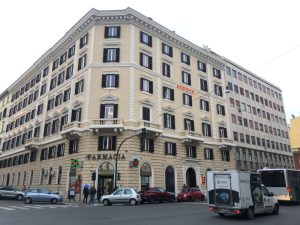 Rome is one of the most visited cities in the world, and rightfully so. The Eternal City is full of history, art, culture, and delicious cuisine that make it a must-visit destination. However, with its popularity comes a high price tag, especially when it comes to accommodation. Luckily, there's a hidden gem in the heart of Rome that offers affordable and chic lodging – the Meininger Roma Termini.
Meininger Roma Termini is a hostel that opened its doors in 2018. It's located in the Esquilino district, just a few steps away from the Termini train station, which makes it easy to get around the city and to other parts of Italy. The area is lively and diverse, with a mix of locals and tourists, and plenty of restaurants, cafes, and shops. It's also home to some of Rome's most iconic landmarks, such as the Colosseum, the Roman Forum, and the Trevi Fountain, all within walking distance from the hostel.
But what sets Meininger Roma Termini apart from other hostels and budget accommodations in Rome is its unique blend of style, comfort, and affordability. The hostel occupies a historic building that used to be a bank, and it's been completely renovated and redesigned to cater to the needs of modern travelers. The interior design is a mix of industrial and vintage elements, with exposed bricks, concrete, and pipes, combined with colorful furniture, artwork, and murals that give it a youthful and playful vibe.
The hostel offers a variety of room types, from private single and double rooms to shared dormitories with four to eight beds, all of them equipped with comfortable beds, private bathrooms, and lockers. The rooms are spacious and well-lit, with high ceilings and large windows that let in plenty of natural light. The hostel also has several common areas, such as a cozy lounge, a fully equipped kitchen, and a rooftop terrace that offers panoramic views of Rome.
But Meininger Roma Termini is more than just a place to sleep. It also provides a range of services and amenities that make it an excellent value for money. For instance, the hostel offers free Wi-Fi throughout the building, a 24-hour reception desk with multilingual staff, and a luggage storage room where you can leave your bags before check-in or after check-out. There's also a laundry room, a vending machine, and a bicycle rental service if you want to explore the city on two wheels.
One of the most significant advantages of Meininger Roma Termini is its focus on sustainability and social responsibility. The hostel has implemented several eco-friendly practices, such as using renewable energy sources, reducing water consumption, and recycling waste. It also supports local charities and social projects, such as a food bank that provides meals to people in need. By choosing to stay at Meininger Roma Termini, you not only save money but also contribute to a more sustainable and fairer tourism industry.
As for trivia, did you know that Meininger is a German hotel chain that was founded in 1999? The name comes from the German words "Mein" (my) and "Ginger" (person), which means "my person" or "my buddy." The idea behind the name is to create a friendly and welcoming atmosphere where guests feel like they're among friends. Today, Meininger has more than 30 hotels in 20 cities across Europe, including Amsterdam, Berlin, Brussels, Copenhagen, and Vienna, among others.
In conclusion, if you're planning a trip to Rome and looking for affordable and stylish accommodation in a central location, Meininger Roma Termini is an excellent option. With its modern design, comfortable rooms, ample amenities, and eco-friendly practices, the hostel offers a unique and enjoyable experience that won't break the bank. Whether you're a solo traveler, a couple, or a group of friends, Meininger Roma Termini has something for everyone.
Additionally, the hostel organizes various activities and events, such as city tours, pub crawls, and movie nights, which are a great way to meet other travelers and explore the city together. The staff is friendly, knowledgeable, and always ready to help you with anything you need, from restaurant recommendations to insider tips on how to avoid the crowds.
Overall, Meininger Roma Termini is a hidden gem in Rome that deserves more attention from budget-conscious travelers who want to experience the city's charm without sacrificing comfort or style. It's an affordable and chic accommodation that offers a unique and memorable stay in one of the world's most beautiful cities. So next time you're in Rome, make sure to check out Meininger Roma Termini and discover the best of both worl