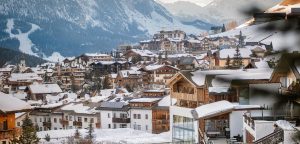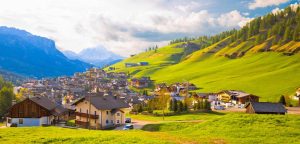 San Cassiano, a charming village in the heart of the Dolomite Mountains, is a hidden gem that is often overlooked by tourists. With its rich history, natural beauty, and warm hospitality, it is a destination that should not be missed by anyone who loves to explore off-the-beaten-path destinations.
San Cassiano is located in the Alta Badia region of South Tyrol, a province in northern Italy that is known for its beautiful mountains, picturesque villages, and unique blend of Italian and Austrian cultures. The village is situated at an altitude of 1537 meters and is surrounded by towering peaks that rise up to 3000 meters above sea level. The landscape is breathtaking, with rugged cliffs, green valleys, and pristine lakes that reflect the surrounding mountains.
The village itself is small, with a population of just over 700 people. However, it is full of character and charm, with narrow streets, old stone houses, and a beautiful church that dates back to the 16th century. The church is dedicated to San Cassiano, a Roman soldier who was martyred in the 4th century and is now the patron saint of the village.
San Cassiano is a popular destination for winter sports enthusiasts, with its proximity to some of the best ski resorts in the region. The village is just a few kilometers from the famous ski resort of Alta Badia, which offers over 130 kilometers of slopes and is a favorite among skiers and snowboarders. There are also several cross-country skiing trails, snowshoeing routes, and sledging tracks that can be enjoyed by visitors of all ages.
However, San Cassiano is not just a winter destination. In the summer months, the village comes alive with hikers, mountain bikers, and nature lovers who come to explore the beautiful surrounding countryside. There are numerous hiking trails that wind their way through the mountains, offering spectacular views of the surrounding peaks and valleys. One of the most popular routes is the path that leads to the beautiful Lake Lagazuoi, which is situated at an altitude of 2,752 meters and offers stunning panoramic views of the surrounding mountains.
San Cassiano is also known for its rich culinary traditions, which reflect the unique blend of Italian and Austrian influences in the region. The local cuisine is characterized by hearty dishes that are made with locally sourced ingredients, such as game meat, mushrooms, and wild herbs. One of the most popular dishes is canederli, a type of dumpling that is made with bread crumbs, milk, and cheese, and served with a rich meat sauce.
In addition to its natural beauty and culinary traditions, San Cassiano also has a fascinating history that is worth exploring. The village was once an important trading center on the ancient Roman road that linked Italy with the rest of Europe. It was also a strategic military outpost during World War I, and many of the trenches, tunnels, and fortifications that were built during that time can still be seen in the surrounding mountains.
One of the most interesting historical sites in San Cassiano is the Museum Ladin Ursus ladinicus, which is dedicated to the unique culture and language of the Ladin people who have inhabited the region for centuries. The museum features exhibits on the history, traditions, and customs of the Ladin people, as well as a collection of fossils and skeletons of prehistoric animals that once roamed the Dolomite Mountains.
In conclusion, San Cassiano is a destination that offers something for everyone. Whether you are a winter sports enthusiast, a nature lover, a foodie, or a history buff, you will find plenty to see and do in this charming village. So why not take a break from the crowds and discover the hidden beauty of San Cassiano for yourself? With its peaceful atmosphere, stunning natural scenery, and rich cultural heritage, San Cassiano is the perfect place to recharge your batteries and reconnect with the natural world.
One of the things that makes San Cassiano so unique is its location in the heart of the Dolomite Mountains, which are a UNESCO World Heritage site. The Dolomites are renowned for their stunning beauty, with towering peaks, rugged cliffs, and deep valleys that are home to a wide variety of plant and animal life. Visitors to San Cassiano can explore this natural wonderland on foot, by bike, or even by paraglider, and experience the thrill of being surrounded by some of the most awe-inspiring landscapes in Europe.
Another reason to visit San Cassiano is its rich cultural heritage, which is reflected in its architecture, cuisine, and traditions. The village is home to a number of historic buildings, including the San Cassiano church, which was built in the 16th century, and the Sotciastel castle, which dates back to the 13th century. The local cuisine is a delicious blend of Italian and Austrian influences, with dishes like goulash, schnitzel, and canederli that are hearty, flavorful, and perfect for cold winter evenings.
One interesting fact about San Cassiano is that it is home to one of the oldest ski schools in Italy. The ski school was founded in 1938 by a group of local ski instructors, and it quickly became a popular destination for winter sports enthusiasts from all over Europe. Today, the ski school continues to offer top-quality instruction in skiing, snowboarding, and other winter sports, and it is recognized as one of the best ski schools in the region.
In addition to skiing and other winter sports, San Cassiano also offers a wide range of other activities for visitors to enjoy. These include hiking, mountain biking, paragliding, fishing, and horseback riding, as well as more relaxed pursuits like wine tasting, spa treatments, and cultural tours. Whether you are looking for an adrenaline-packed adventure or a quiet retreat in the mountains, San Cassiano has something for everyone.
So if you are looking for a unique and unforgettable travel experience, consider visiting San Cassiano, Italy. With its breathtaking natural beauty, rich cultural heritage, and warm hospitality, it is a destination that is sure to capture your heart and leave you with memories that will last a lifetime.