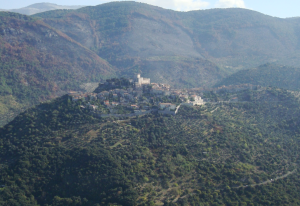 Perched atop a steep hillside in the heart of Lazio, Italy, Sermoneta is a hidden gem that offers visitors a glimpse into the country's rich history and stunning natural beauty. This medieval town is full of character and charm, with narrow streets, stone buildings, and panoramic views of the surrounding countryside. In this article, we'll take a closer look at what makes Sermoneta so special, as well as some interesting facts and trivia about this enchanting hillside town.
History and Architecture
Sermoneta has a long and fascinating history that dates back to the Middle Ages. The town was originally founded by the ancient Volsci people, and it later became a stronghold of the Caetani family, one of the most powerful and influential families in Italy during the medieval period. Today, Sermoneta's historic center is still dominated by the impressive Caetani Castle, a massive fortress that was built in the 13th century and stands as a testament to the town's rich architectural heritage.
The castle is a must-see for anyone visiting Sermoneta, with its crenelated walls, imposing towers, and magnificent views of the surrounding landscape. Inside, visitors can explore a number of rooms and chambers that are decorated with frescoes, tapestries, and other works of art from various periods in the castle's history. The castle also houses a museum that showcases the town's archaeological and historical treasures, including artifacts from the ancient Volsci civilization and the Caetani family's own collections.
In addition to the castle, Sermoneta's historic center is home to a number of other notable buildings and landmarks. These include the Church of Santa Maria delle Grazie, a beautiful Renaissance-era church that features a stunning marble altar and frescoes by the famous painter Antonio Tempesta. Visitors can also wander the narrow streets and alleys of the town's medieval quarter, where they'll find ancient fountains, charming piazzas, and picturesque views at every turn.
Natural Beauty and Outdoor Activities
While Sermoneta's historic center is undoubtedly its main attraction, the town is also surrounded by natural beauty that is well worth exploring. The town is situated on the slopes of the Lepini Mountains, which offer a range of hiking trails and outdoor activities for visitors to enjoy. From the top of the castle's towers, visitors can take in panoramic views of the surrounding landscape, including the rolling hills, lush forests, and sparkling seas of the Tyrrhenian coast.
One of the most popular outdoor activities in Sermoneta is hiking the nearby Monte Semprevisa, which is the highest peak in the Lepini Mountains. This challenging hike takes visitors through beautiful forests and meadows, with stunning views of the surrounding countryside along the way. For those who prefer a more leisurely pace, there are also a number of walking trails and nature walks in and around the town, as well as opportunities for birdwatching and other outdoor activities.
Interesting Facts and Trivia
Sermoneta is a town full of surprises and hidden treasures. Here are a few interesting facts and trivia that you might not know about this enchanting hillside town:
Sermoneta is known for its production of olive oil, which is considered some of the best in Italy. The town's olive groves have been cultivated for centuries, and the oil produced here is renowned for its rich flavor and high quality.
The Caetani family, who ruled over Sermoneta for centuries, were known for their patronage of the arts and culture. They commissioned many of the town's most beautiful buildings and works of art, including the Caetani Castle and the Church of Santa Maria delle Grazie.
Sermoneta is home to a number of traditional festivals and celebrations throughout the year. One of the most popular is the Palio delle Contrade, a medieval-style jousting tournament that takes place in the town's historic center each August. The tournament sees riders from different neighborhoods, or contrade, compete for the honor of carrying the town's flag in a procession through the streets.
Sermoneta has a long tradition of culinary excellence, with many local dishes and delicacies that reflect the town's rich agricultural heritage. Some of the most famous local specialties include porchetta, a roasted pork dish that is seasoned with herbs and spices, and the town's famous olive oil, which is used in a wide range of local dishes.
Sermoneta has been the setting for several films and TV shows over the years, thanks to its stunning scenery and historic architecture. Notable examples include the 1991 film "Il male oscuro," directed by Mario Monicelli, and the Italian TV series "Un passo dal cielo," which was filmed in and around the town in 2011.

In conclusion, Sermoneta is an enchanting hillside town that offers visitors a unique blend of history, culture, and natural beauty. With its stunning medieval architecture, panoramic views, and rich culinary traditions, it's no wonder that this hidden gem has become a favorite destination for travelers seeking an authentic Italian experience. Whether you're a history buff, an outdoor enthusiast, or simply looking for a peaceful and picturesque escape from the hustle and bustle of everyday life, Sermoneta is a town that is sure to captivate and enchant you.