West of Lucca in this nondescript village, you'll note a rotund wine cask on the right with vino sfuso (wine by the liter) – "f" missing – painted  on it. A white sign over the cask – with the daily specials on it – confirms you've found Osteria Il Ciancino.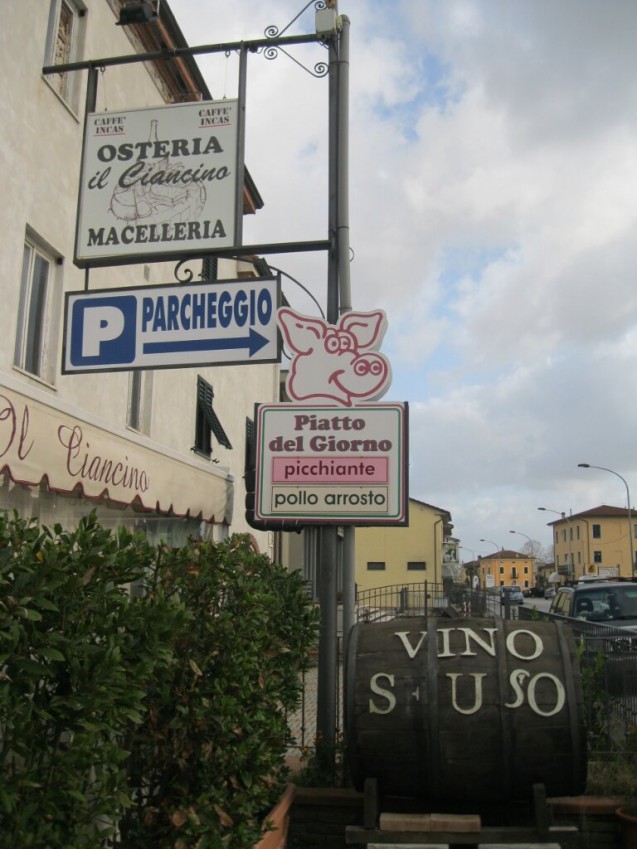 A macelleria is left of the entryway – the origin of the inn – and chef/owner, Andrea, is a butcher (third-generation), too: a guarantee of top quality meats at il Ciancino.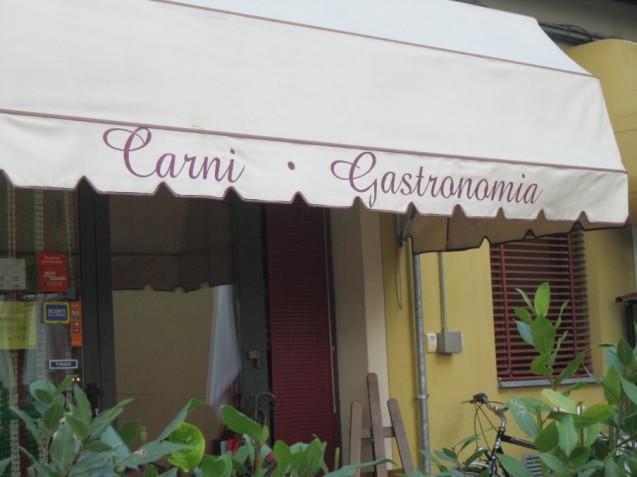 For Lucchesi, "il ciancino" was a light meal – a hearty soup or bread, cheese and prosciutto – enjoyed with the house wine. This ciancino, too, offers good hearty fare in a no-frills setting. Paper-covered tables fill with hungry workers and businessmen here for good food at €10 for a prezzo fisso menu with rapid service.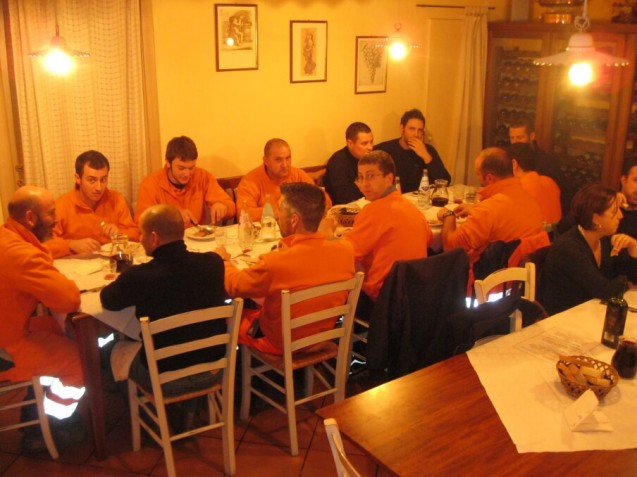 Young waitresses agilely dodge each other as they zip between tables and the swinging kitchen doors, dishes piled up and down their arms, delivering tortellini, lasagne, gnocchi, huge Florentine steaks and stews to diners.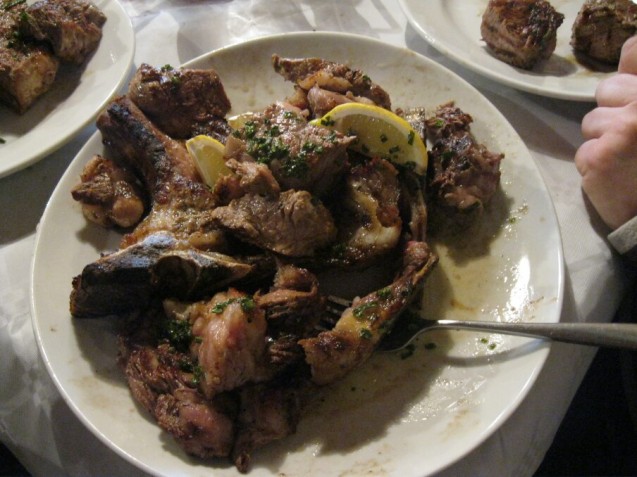 Server Silvia – at the enormous steel cisterns holding three local wines – uses a hose attached to the cistern spigot to fill up pitchers. Prices of the wines – sold also by the liter for home use – match any pocket: €1.8/liter for vino rosso da tavola, €1.6 for vino bianco and rosso tavola superiore, a whopping €2.8 euro/liter…!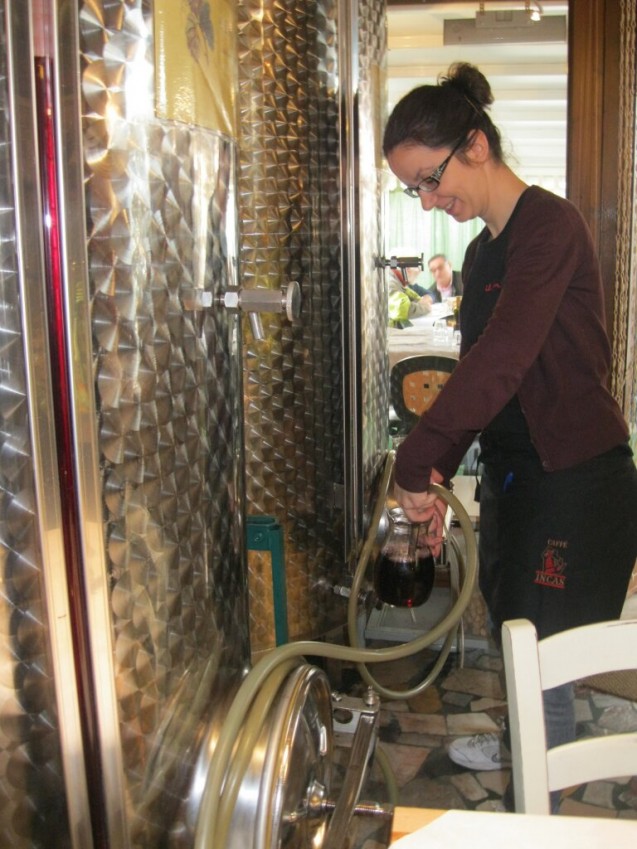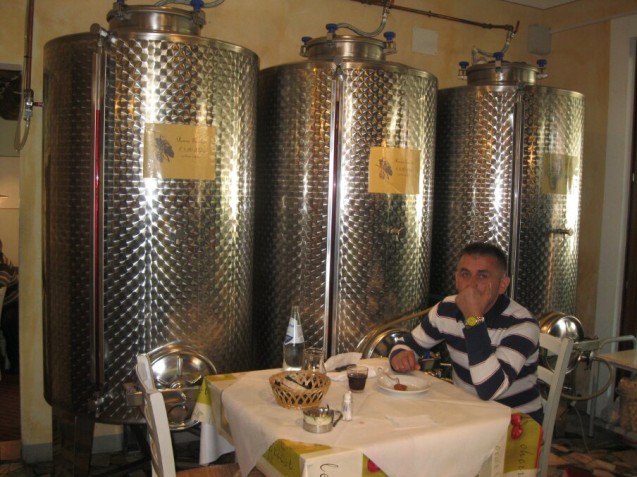 "Butcher-chef" Andrea hustled in the kitchen with mamma Laura when we were there – "on break" from the burners – setting rapidly-cleared tables.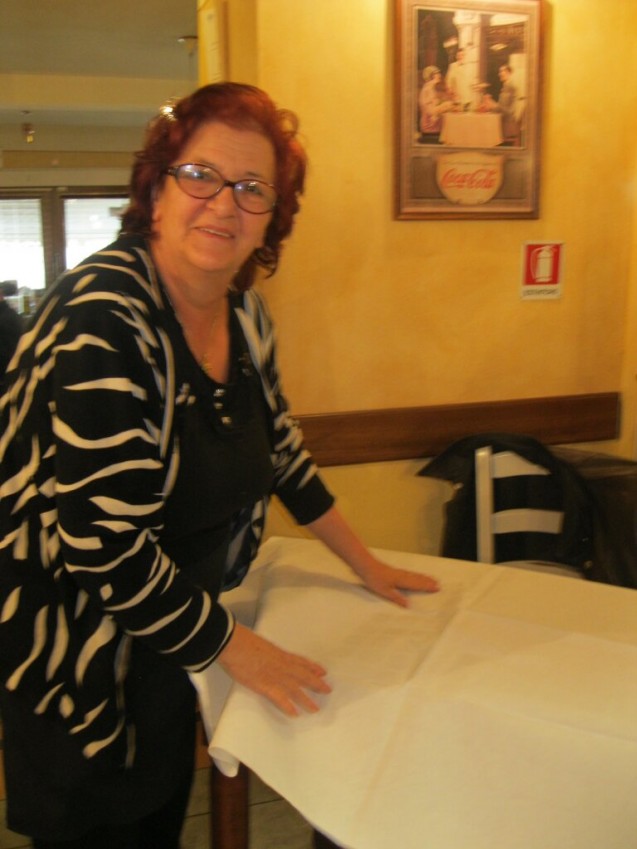 "Il piatto miglore?" I asked her. "Every dish is best because we cook come una volta ('as long ago)". Laura learned from her mother and grandmother, both with una grande passione for food, for the kitchen. She explained, "I had to learn all I could: I just have to eat well! I can't help it. Sono un buongustaio ('a good-taster', i.e. a  gourmet)."
Using his elbows to push open the kitchen doors, Andrea came out, balancing a huge raw bistecca alla fiorentina on brown butcher paper and heading to a diner:  "The customer has to see it before grilling". Silvia, showed massive bistecche to a table of four men, advising two steaks, not one. She was right.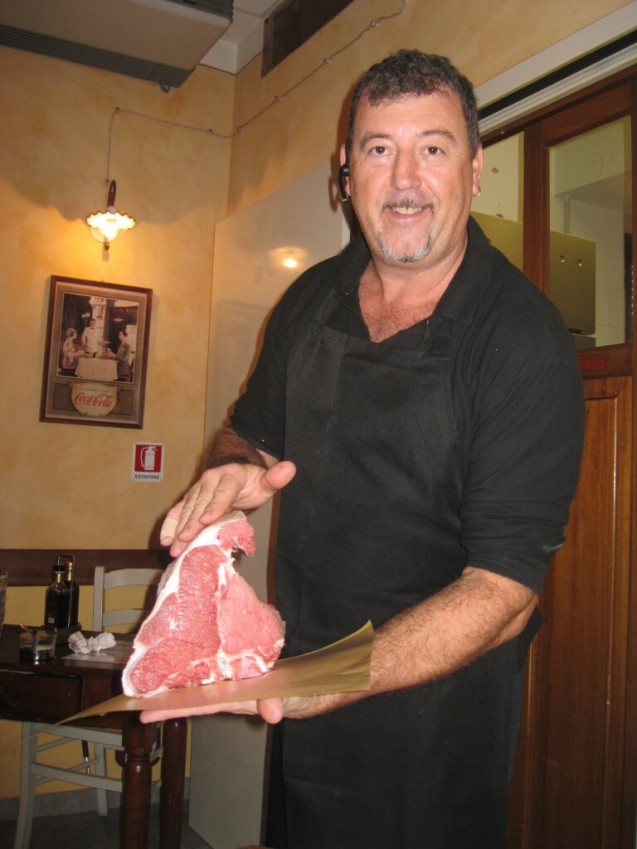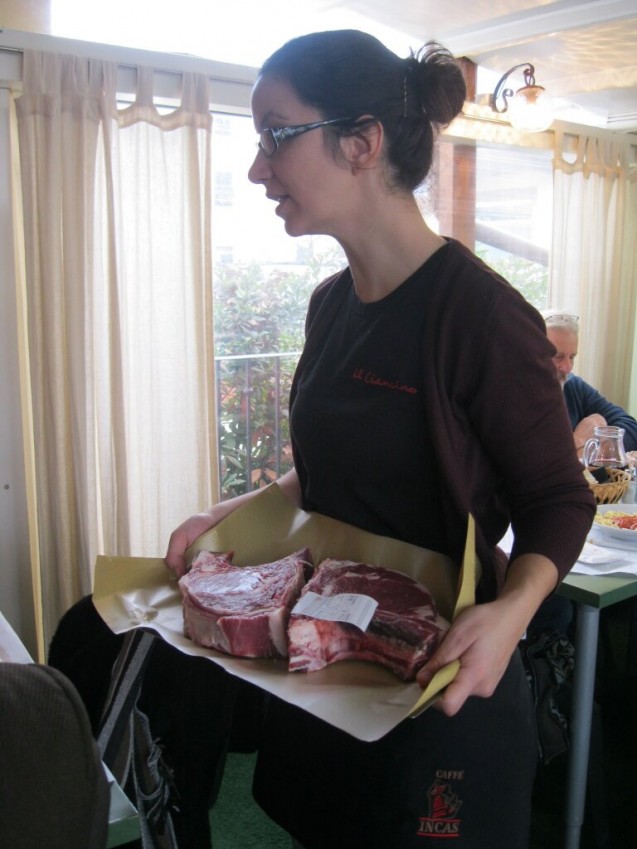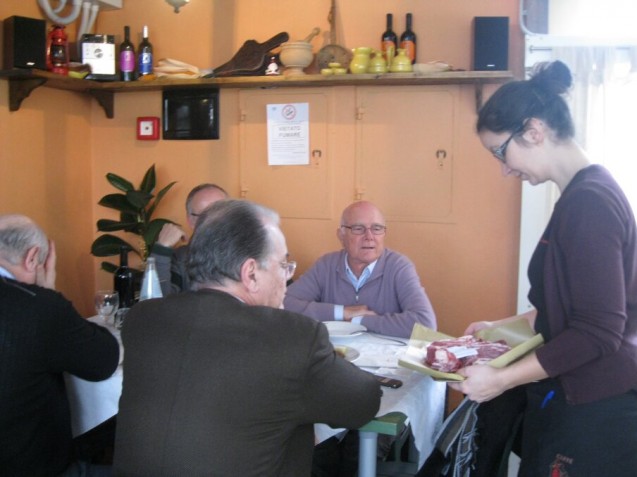 Menus are laminated plastic cards listing the full array of Ciancino goodness, though not all dishes are served daily. Black magic marker rings encircle dishes offered. Picchiante was il piatto del giorno so I ordered it. "Mi dispiace, tutto finito", our server apologized. "It's a favorite." But when she described this "stufato molto saporito" (very tasty stew) of organ meats, fine with me for the "finito!" So I opted instead for tasty rosticciana in umido (ribs in spicy tomato sauce with local black olives) while Pino chose boiled meats: beef and tongue served with pickled red onions and a caper/anchovy sauce.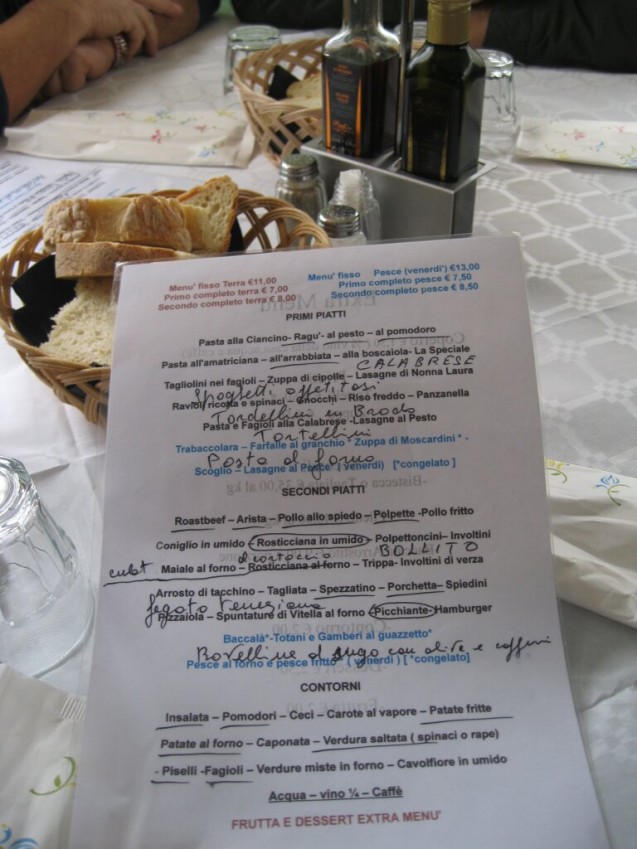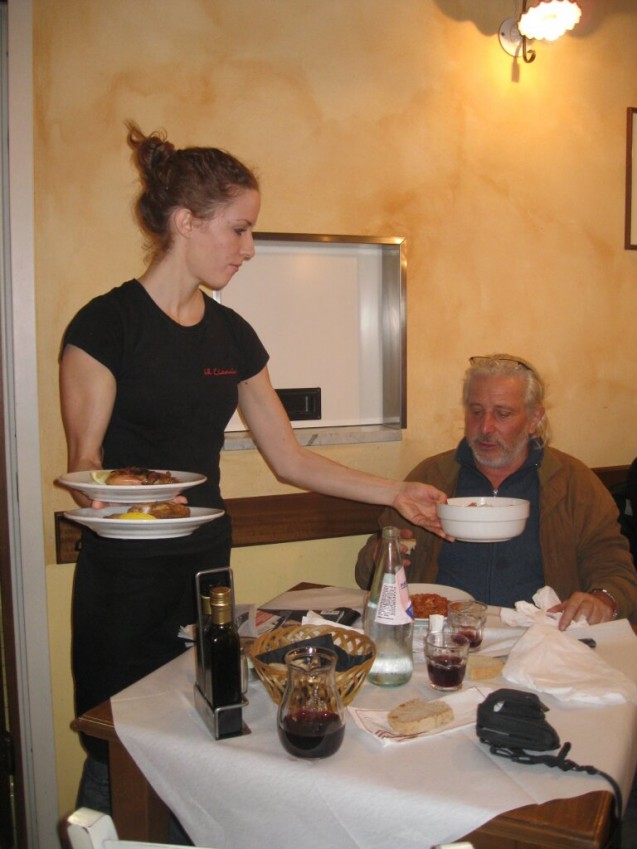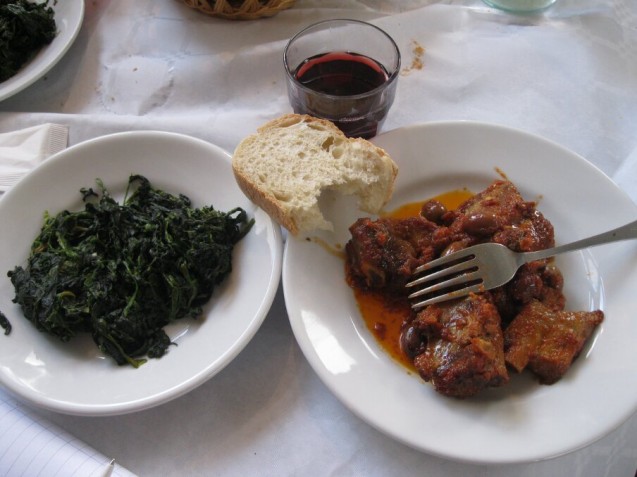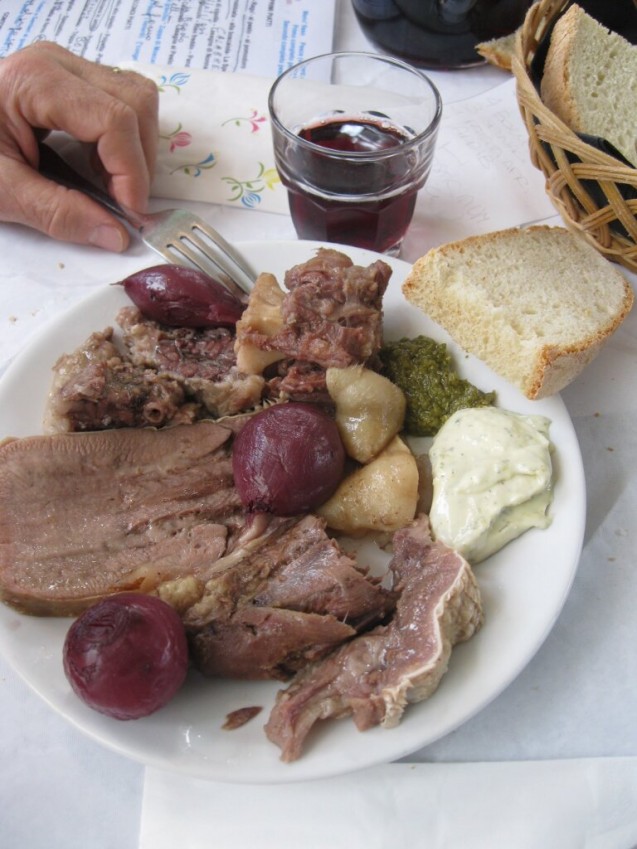 Enticing desserts are in the glass case at the bar where Andrea's wife Francesca pours espressi and digestivi with one hand, tallying up bills with another.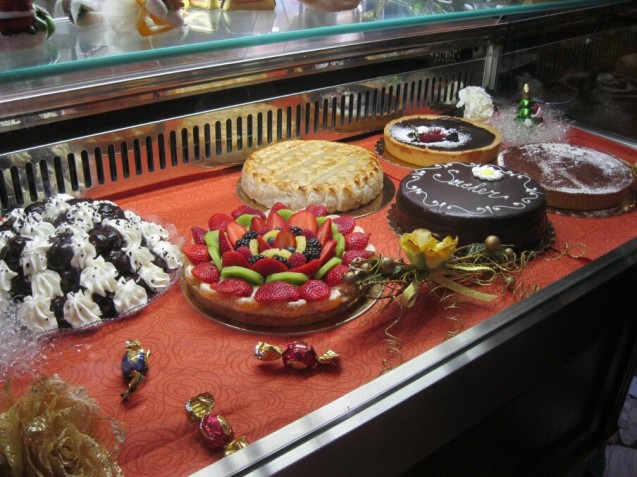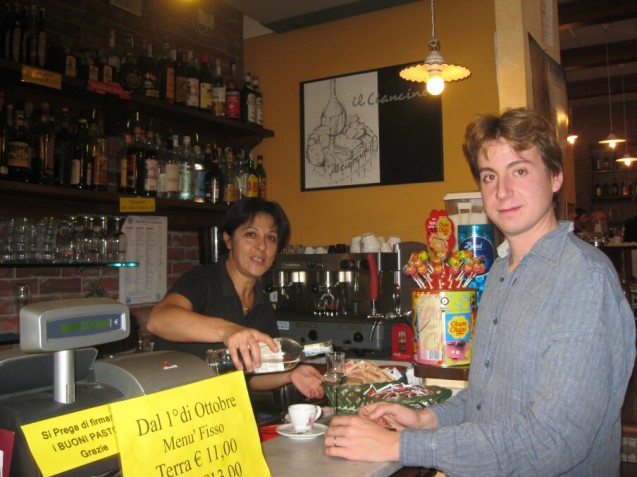 At Osteria Il Ciancino, Andrea, Laura, Francesca and staff keep their slogan alive: "From mother to daughter… from daughter to son, until you can top tradition and reach the apex of culinary traditions."