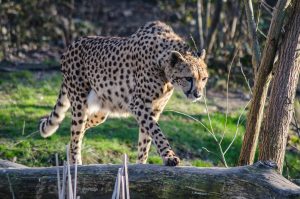 Zoos are one of the most popular attractions worldwide. They provide a chance for visitors to get up close and personal with some of the world's most exotic and endangered animals while learning about their habitat and behavior. Italy, a country rich in history, culture, and natural beauty, is no exception. With a wide variety of wildlife, from snow leopards to crocodiles, Italy has many zoos that offer a unique and unforgettable experience for animal lovers of all ages.
The Bioparco di Roma, located in the heart of Rome, is one of the most famous and oldest zoos in Italy. Established in 1911, this zoo is home to over 1,000 animals, including elephants, lions, and giraffes. The Bioparco di Roma is renowned for its commitment to animal welfare and conservation efforts, and it has received numerous awards for its work. Visitors can watch animals in their natural habitats and take part in guided tours to learn about the zoo's history, conservation efforts, and research programs.
For those looking for a unique and thrilling experience, the Zoomarine in Rome is a must-visit. This marine park and zoo, located on the outskirts of the city, features a range of marine life, including dolphins, sharks, and sea lions. Visitors can enjoy exciting shows and educational presentations while getting a chance to interact with these amazing creatures. Zoomarine also offers a water park with exciting rides and attractions for visitors of all ages.
Moving on from Rome, the Parco Natura Viva in Bussolengo, Verona, is a zoo dedicated to preserving endangered animal species. Visitors can take a safari tour and watch lions, tigers, and other big cats roam freely in their natural habitats. The zoo also has a breeding program for endangered animals, including cheetahs and rhinos. The Parco Natura Viva has an extensive collection of reptiles, birds, and primates, making it a great destination for nature lovers.
For visitors looking for a unique experience, the Zoom Torino, located in Turin, is the place to be. The Zoom Torino is a zoo and amusement park that offers an exciting mix of fun and education. Visitors can explore the zoo's various habitats, including the snow leopard area, Arctic area, and tropical forest. The zoo also has a range of thrilling rides, including a roller coaster that takes visitors on a journey through the park's habitats.
Last but not least, the Zoo Safari in Fasano, Puglia, is a zoo that offers a unique experience for visitors. The zoo features a drive-through safari tour where visitors can watch animals such as lions, zebras, and rhinos up close from the comfort of their cars. The zoo also has a range of activities for visitors, including a petting zoo and a playground. The Zoo Safari is an excellent destination for families looking for a fun and educational experience.
In conclusion, Italy has a wide variety of zoos that offer unique and unforgettable experiences for animal lovers of all ages. Whether you are interested in marine life, big cats, or exotic birds, there is a zoo in Italy that will suit your interests. With a commitment to animal welfare and conservation efforts, these zoos provide a chance for visitors to learn about the world's wildlife while having fun. So, if you're planning a trip to Italy, make sure to include a visit to one of these fascinating zoos in your itinerary!
Trivia: Did you know that the Bioparco di Roma was once home to Mussolini's private zoo? After World War II, the zoo was transformed into a public park and dedicated to conservation efforts.