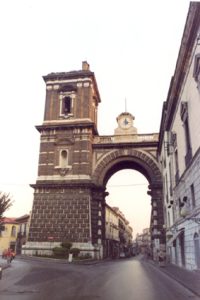 If you're looking to experience authentic Italy beyond the typical tourist destinations, Aversa in the Campania region is a great place to start. This small, charming city is often overlooked by travelers in favor of its larger neighbors, such as Naples and Caserta, but it has plenty of unique features that make it a hidden gem worth exploring.
Located just a short drive from Naples, Aversa is easy to reach by car or train, and its small size makes it perfect for a day trip or a weekend getaway. The city has a rich history dating back to Roman times, and visitors can see the remnants of ancient civilizations throughout the city, from the Roman amphitheater to the medieval castle.
One of the most impressive landmarks in Aversa is the 11th-century Cathedral of San Paolo, which features stunning Byzantine-style mosaics and a beautiful baroque interior. The cathedral is one of the most important religious sites in the region and is worth visiting for its architectural and artistic beauty.
Another must-visit attraction in Aversa is the Royal Palace, a grandiose 18th-century residence built for the Bourbon kings of Naples. The palace boasts beautiful gardens, a grand ballroom, and an impressive collection of artwork and historical artifacts. Visitors can also tour the adjacent Bourbon Prison, which housed political prisoners during the Bourbon era.
Aversa is also known for its culinary delights, including the famous mozzarella di bufala, a type of buffalo milk cheese that is produced in the surrounding countryside. Visitors can sample this delicious cheese at local restaurants and shops, and can also enjoy other regional specialties like pizza, pasta, and seafood.
For those interested in local history, Aversa is home to several museums and cultural institutions, including the Diocesan Museum of Sacred Art, which features a collection of religious art from the Middle Ages to the Baroque era, and the Aversa Archeological Museum, which showcases artifacts from the Roman and medieval periods.
Despite its small size, Aversa has a vibrant nightlife scene, with a variety of bars, pubs, and clubs that cater to all tastes. Whether you're looking for a quiet drink with friends or a night of dancing and music, you're sure to find something that suits your style in Aversa.
If you're looking for a unique souvenir to take home from your visit to Aversa, consider picking up a traditional "puppet" from one of the local craftspeople. These hand-crafted wooden puppets are a symbol of the city's cultural heritage and make a great addition to any collection.
Aversa may be a small city, but it has a lot to offer visitors who are looking to explore the hidden treasures of Campania. From its rich history and cultural heritage to its delicious food and vibrant nightlife, Aversa is a destination that is well worth a visit. So why not add this hidden gem to your travel itinerary and discover the beauty of this charming Italian city for yourself?
Trivia:
The city's name is derived from the Latin word "Aversa", meaning "opposite" or "in front of", as it was originally situated across the river from the ancient city of Capua.
Aversa is famous for its ancient tradition of sword dancing, which dates back to the medieval period and is still performed today during religious festivals and cultural events.
Aversa was home to one of the first printing presses in Italy, which was established by the famous humanist and scholar Giovanni Pontano in the 15th century.