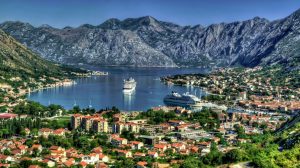 Montenegro, a small country in the Balkans, is a hidden gem of Europe. Known for its picturesque landscapes and historical sites, it has been attracting travelers from all over the world in recent years. It is a country that offers a mix of adventure, culture, and relaxation to its visitors. With its close proximity to Italy, Montenegro has become a popular destination for Italian tourists. In this article, we will explore the relationship between Montenegro and Italy, and delve into some interesting trivia about this beautiful country.
Montenegro is a country with a rich and fascinating history. It has been inhabited since prehistoric times and has seen the rise and fall of many civilizations. The Illyrians, Romans, Byzantines, and Slavs are just a few of the peoples that have left their mark on Montenegro. The country's strategic location on the Adriatic Sea has made it a desirable target for conquest by various powers throughout history. It was ruled by the Ottoman Empire for over four centuries, and then became part of the Kingdom of Yugoslavia after World War I. Montenegro gained independence in 2006, becoming the youngest country in Europe.
Montenegro's relationship with Italy dates back centuries. During the Roman Empire, Montenegro was part of the province of Illyricum, which was governed from the city of Salona in modern-day Croatia. The Romans left their mark on Montenegro in the form of impressive ruins such as the Mosaics of Risan and the Amphitheater in Budva. In the Middle Ages, the Venetian Republic exerted significant influence over Montenegro, which was then known as Zeta. Venice built fortresses and churches in the coastal towns, which can still be seen today. The Venetians also introduced the cultivation of olives and grapevines, which are now important crops in Montenegro.
Today, Montenegro is a popular destination for Italian tourists. The country's stunning coastline and clear waters are reminiscent of the Italian Riviera. The old towns of Kotor and Budva are particularly popular, with their winding alleys, ancient walls, and stunning architecture. Italian tourists are also drawn to the delicious food and wine that Montenegro has to offer. Montenegrin cuisine is heavily influenced by Italian and Mediterranean cuisine, with an emphasis on fresh seafood and local produce. The country's wineries are also gaining recognition, producing excellent reds and whites from indigenous grape varieties.
Montenegro is also a country of stunning natural beauty. Its rugged mountains, pristine lakes, and lush forests attract outdoor enthusiasts from around the world. The Durmitor National Park is a UNESCO World Heritage Site, known for its dramatic peaks, canyons, and glacial lakes. The Tara River Canyon, the second deepest in the world after the Grand Canyon, is a popular destination for rafting and kayaking. The Skadar Lake, the largest in the Balkans, is home to over 280 species of birds and is a paradise for birdwatchers. Montenegro's stunning natural landscapes offer a unique and unforgettable experience for travelers.
In addition to its natural beauty and historical sites, Montenegro also has some interesting trivia that is worth knowing. The country has the second-highest proportion of people over 100 years old in the world, after Japan. Montenegro is also home to the world's deepest underwater cave, the Blue Hole, which is over 300 meters deep. The country has its own version of the Loch Ness Monster, known as Lake Skadar's "Serpent Lady." According to legend, the Serpent Lady lives in the depths of the lake and is said to bring good luck to those who see her. Montenegro is also one of the few countries in the world that does not have a McDonald's restaurant. The government has imposed a ban on fast food chains in an effort to preserve the country's traditional cuisine and encourage the growth of local businesses. Montenegro is also home to the world's second-largest vineyard, the Plantaze Vineyard, which covers over 2,200 hectares of land and produces over 20 million liters of wine annually.
Montenegro's culture is a blend of different influences, reflecting its complex history. The country has a rich musical tradition, with folk songs and dances that have been passed down through generations. Montenegro is also known for its traditional clothing, which includes colorful, embroidered dresses for women and woolen capes for men. The country's festivals and celebrations are an important part of its culture, with events such as the Kotor Carnival, the Budva Theatre City Festival, and the Herceg Novi Film Festival drawing crowds from all over the world.
In conclusion, Montenegro is a unique and fascinating country that offers something for every type of traveler. Its rich history, stunning natural landscapes, delicious cuisine, and vibrant culture make it a must-visit destination. Its close proximity to Italy makes it an ideal addition to an Italian itinerary, with easy connections by ferry or car. So, whether you're a history buff, an outdoor enthusiast, a foodie, or a culture lover, Montenegro has something special in store for you. It's time to pack your bags and discover this hidden gem of Europe.