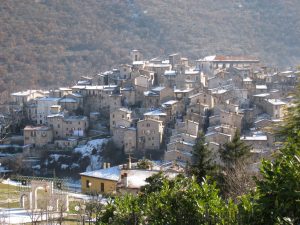 Nestled in the heart of the Abruzzo region in Italy lies the charming town of Scanno. With its narrow alleys, stone houses, and breathtaking landscapes, it's no wonder that this small town has become a hidden gem for those who want to experience the authentic Italian way of life. Scanno is a place where time seems to have stood still, and the locals still practice centuries-old traditions. In this article, we will take a closer look at Scanno and explore why it's a must-visit destination for anyone traveling to Italy.
The history of Scanno dates back to the medieval times, and the town still retains much of its old-world charm. Its architecture is predominantly made of stone, and the streets are narrow and winding. The town's center is the Piazza del Popolo, a beautiful square surrounded by ancient buildings and overlooked by the town's church. This square is a popular spot for locals and visitors alike to enjoy a coffee or gelato while taking in the town's ambiance.
One of the most distinctive features of Scanno is the traditional dress of its residents. The women's outfits, in particular, are quite unique and have remained unchanged for centuries. They wear a black skirt with white stripes and a black bodice adorned with intricate embroidery. They also wear a white shirt with ruffled sleeves and a lace collar, and a colorful scarf around their neck. The men's outfits are also traditional, consisting of a jacket, vest, and trousers made of wool.
Scanno is not only a beautiful town, but it's also surrounded by breathtaking landscapes. The town is located in the National Park of Abruzzo, Lazio and Molise, which is home to some of the most stunning natural scenery in Italy. The park is characterized by mountains, valleys, and rivers, and it's the perfect place for outdoor activities such as hiking, skiing, and fishing.
The lake of Scanno, located just a few kilometers from the town, is also a must-see attraction. The lake is surrounded by mountains, and its crystal-clear waters reflect the stunning landscape. Visitors can take a boat tour of the lake or simply relax on its shores and enjoy the peaceful surroundings.
Scanno is also known for its delicious cuisine. The town's restaurants serve traditional dishes made with local ingredients such as lamb, pork, and pasta. One of the most popular dishes is arrosticini, which are skewers of lamb cooked over an open flame. The town is also famous for its sweets, particularly the confetti, which are sugar-coated almonds that come in a variety of colors and flavors.
In addition to its natural beauty and delicious cuisine, Scanno is also home to several cultural and historical attractions. The town's museum, the Museo Civico di Scanno, is dedicated to the town's history and traditions. The museum showcases the traditional dress worn by the town's residents, as well as other artifacts that depict the town's past. The town's church, the Chiesa di Santa Maria della Valle, is also worth a visit. The church dates back to the 13th century and features beautiful frescoes and sculptures.
Scanno is a town that has something to offer everyone. Whether you're interested in history, culture, or nature, you're sure to find something that interests you in this charming town. So if you're planning a trip to Italy, make sure to add Scanno to your itinerary.
Fun Fact: Scanno is the birthplace of Nicola Sacco, one of the two men executed for the infamous Sacco and Vanzetti case in the United States. The case remains controversial to this day, and many believe that Sacco and Vanzetti were wrongly convicted. In Scanno, there is a street named after Sacco, and a museum dedicated to his memory.
Another interesting fact about Scanno is that it was a popular destination for artists and writers during the 19th and 20th centuries. The town's beautiful scenery and traditional way of life inspired many artists, including the famous Italian painter, Edoardo Gioja. Today, the town is still a popular destination for artists and writers, who come to soak up its inspiring atmosphere.
If you're planning a visit to Scanno, it's best to avoid the summer months, as the town can get quite crowded with tourists. The best time to visit is during the spring or fall, when the weather is mild, and the town is less crowded. During the winter months, the town is also popular with skiers, as there are several ski resorts nearby.
In conclusion, Scanno is a hidden gem in the heart of Italy, offering visitors a glimpse into the country's traditional way of life. From its stunning natural beauty to its delicious cuisine and rich cultural heritage, Scanno is a town that has something to offer everyone. So if you're looking for an authentic Italian experience, make sure to add Scanno to your travel bucket list.