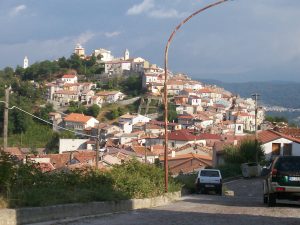 Amidst the vast and diverse beauty of Italy lies a small, lesser-known village called Latronico. Tucked away in the hills of the Basilicata region, this enchanting village is an absolute gem waiting to be discovered. With its stunning natural surroundings, rich history, and warm and welcoming people, Latronico is a unique destination that will leave a lasting impression on any traveler.
Latronico's history dates back to the ancient Roman times when it was a crucial center for trade and commerce. The village's strategic location, surrounded by hills and forests, made it an ideal place for trading goods such as wheat, olive oil, and wine. Later on, during the Middle Ages, Latronico became a fortified town, as it was often invaded and pillaged by various conquerors. However, despite the many hardships and challenges it has faced over the years, Latronico has managed to preserve its unique identity and charm, making it a fascinating place to visit.
One of the most striking features of Latronico is its natural beauty. The village is situated on a hill, surrounded by lush forests, rolling hills, and mountains. The air is crisp and fresh, and the scenery is simply breathtaking. The village's location also makes it an ideal starting point for nature walks, hiking, and exploring the surrounding countryside. One of the most popular hiking trails is the "Sentiero delle Sorgenti," a scenic path that winds through the woods, past bubbling streams, and beautiful waterfalls.
Latronico's architecture is also noteworthy, with many old buildings and structures that have been preserved over the years. The village's most significant landmark is the "Castello," an imposing fortress that dates back to the 12th century. The castle was built to defend the town against invaders and has since been transformed into a museum that showcases the region's rich history and culture. Another must-see attraction in Latronico is the "Palazzo di Citta," a stunning Renaissance palace that houses the town hall and other administrative offices.
Latronico is also famous for its gastronomy, with an abundance of local products and traditional dishes. The village is known for its excellent wine, olive oil, and honey, which are produced using traditional methods passed down from generation to generation. Some of the most popular local dishes include "Lagane e Cicciari," a delicious pasta dish made with chickpeas, and "Patate e Peperoni," a mouth-watering potato and pepper stew.
Aside from its natural beauty and cultural attractions, Latronico is also a vibrant and welcoming community. The people of Latronico are known for their warmth and hospitality, and visitors are always greeted with a smile. The village also hosts many festivals and celebrations throughout the year, including the "Festa di San Vito," a religious festival that takes place every June and features a parade, fireworks, and traditional music and dancing.
In conclusion, Latronico is a hidden treasure in southern Italy that is well worth discovering. Its stunning natural surroundings, rich history and culture, and warm and welcoming people make it a unique and unforgettable destination. Whether you're a nature lover, history buff, foodie, or just looking for a place to relax and unwind, Latronico has something to offer everyone. So why not add Latronico to your travel list and experience the magic for yourself?
Trivia: Did you know that Latronico was once famous for its production of silk? In the 18th and 19th centuries, Latronico was one of the most important centers of silk production in southern Italy, with many families working in the industry. Today, the silk industry has all but disappeared, and only a few local artisans continue to produce handmade silk products using traditional methods. Visitors to Latronico can still find beautiful silk scarves, ties, and other products at local markets and shops. The village's silk heritage is also celebrated every year during the "Festa del Baco," a festival dedicated to the production of silk and the silkworm. The festival features a procession, live music, and traditional silk-making demonstrations.
Another interesting fact about Latronico is that it was once home to a community of Arbëreshë, or Albanian-speaking people. In the late 15th century, a group of Albanians fled their homeland due to the Ottoman invasion and settled in southern Italy. The Arbëreshë people maintained their language, traditions, and culture, and today, there are still several Arbëreshë communities in southern Italy, including Latronico. Visitors to Latronico can learn more about the Arbëreshë culture and history at the local museum and cultural center.
Latronico may be a small and relatively unknown village, but it has a rich history and culture that is well worth exploring. From its stunning natural surroundings and architecture to its delicious food and warm hospitality, Latronico offers a unique and unforgettable travel experience. So next time you're planning a trip to Italy, consider adding Latronico to your itinerary and discover the magic for yourself.