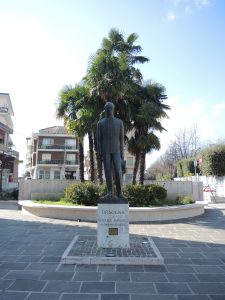 When traveling to Italy, most people think of Rome, Florence, or Venice as their main destinations. However, there are many hidden gems in this beautiful country, such as the enchanting village of Orsogna. Located in the province of Chieti, in the Abruzzo region, Orsogna is a small but charming village that offers visitors a glimpse into the authentic Italian lifestyle.
Orsogna is a town with a rich history, dating back to the Roman times. It was originally called "Urbs Insignis" and was an important trading center in the region. In the Middle Ages, Orsogna became a stronghold of the Lombards, and then passed into the hands of the Normans. During the Renaissance, the town was enriched with beautiful buildings and works of art, such as the Chiesa della Madonna del Popolo, which houses an exquisite painting by Simone De Magistris.
One of the most striking features of Orsogna is its beautiful landscape. Surrounded by hills, mountains, and forests, the village offers breathtaking views of the countryside. Visitors can take a stroll through the narrow streets and alleyways, admiring the traditional architecture and the colorful houses adorned with flowerpots. They can also hike in the nearby mountains or visit the nearby nature reserves, such as the National Park of Abruzzo, Lazio, and Molise.
Orsogna is also known for its delicious cuisine. The village is famous for its olive oil, wine, and cheese, which are all produced locally. Visitors can taste these delicacies in the local trattorias and restaurants, where they can also try traditional dishes such as arrosticini (skewers of grilled lamb) or pasta alla chitarra (a type of pasta made with a special tool called chitarra).
For those interested in history and culture, Orsogna offers plenty of attractions. The Museo Civico di Orsogna is a small but interesting museum that displays archaeological finds, medieval artifacts, and works of art from the Renaissance. The Palazzo De Felice, a beautiful 18th-century building, houses a library and a conference hall and is used for cultural events and exhibitions.
But Orsogna's main attraction is its people. The village is inhabited by friendly and hospitable locals who welcome visitors with open arms. They are proud of their heritage and are eager to share their traditions and customs with tourists. One of the most popular events in Orsogna is the Festa di San Rocco, a religious festival that takes place every year in August. The festival features processions, music, and fireworks, and is a great opportunity to experience the local culture.
In conclusion, Orsogna is a hidden gem that deserves to be discovered. It offers visitors a unique combination of history, nature, culture, and gastronomy, all wrapped up in a warm and welcoming atmosphere. Whether you're looking for a peaceful retreat or an authentic Italian experience, Orsogna is the place to be.
Trivia: Did you know that Orsogna was the birthplace of Ennio Flaiano, an Italian writer, screenwriter, and playwright who collaborated with Federico Fellini on many of his films? Flaiano was nominated for an Academy Award for Best Original Screenplay for La Dolce Vita in 1961.