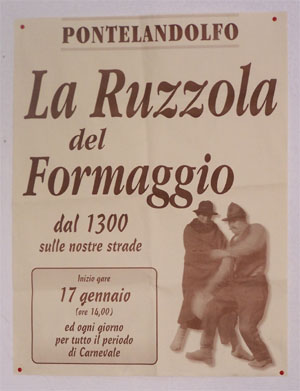 Every year starting late January in the province of Benevento in Campania an unusual and wonderful activity takes place. Like bees honing onto a flower, the men of Pontelandolfo flock to the main square every afternoon until the end of Carnevale. Proud and defiant, they challenge one another individually and in groups to a grueling contest of… la ruzzola del formaggio! (literally the rolling of the cheese)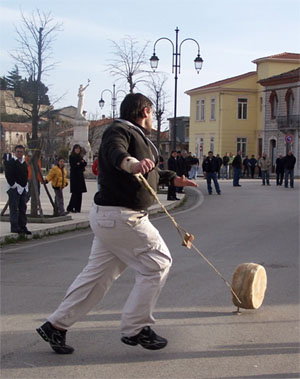 Of course, this game was once much more diffuse throughout the Apennines. However in some places despite 'modernity', or maybe even in order to make a statement against some aspects of it, old habits die hard.
La Ruzzola is a tradition dating back at least 3000 years, as immortalized in the Etruscan Tomba delle Olimpiade (Tomb of the Olympiads) in Tarquinia. Played nowadays almost exclusively by farmers and stonemasons who, during the winter months have more free time, the men show off their strength and prowess by hurling these huge forms of cheese, some weighing up to 35 kg (77 lbs.)!