Easy, right? Hmmm… but do you want crudo or cotto? (cured or cooked, respectively) Do you need it for cooking, appetizers, with melon, or sandwiches? San Daniele, Parma, or di montagna? Culatello, or speck? And how many etti?
How many whats!? Ah yes, in Italy all deli transactions are done in etti (An etto is 100 grams.) You'll get anywhere from 3 to 8 slices in an etto, depending on what type of prosciutto you're ordering and how it gets cut.
Cuts are generally usually by machine, in which case you might want to specify tagliato sottile (thinly sliced), for the higher end prosciutto or if for appetizers. Alternately, you can specifically ask that your prosciutto be tagliato a mano (sliced by hand), done most often for the prosciutto di montagna (mountain prosciutto), a catch all for the supposedly less refined, heartier hill or mountain variety which, since it's cut by hand and thus thicker, is great for sandwiches or cooking.
Then again, not all of the latter is less special… here at the Norcineria Iacozzilli (Iacozilli's pork/coldcut store in Trastevere, affectionately called "House of Pork") the prosciutto di montagna (they raise and cure all their own pigs/ham) is on par with the "finer" types.
As for the lowland prosciutti, Parma is your everyday table variety, and any deli will usually have two or more "open", meaning you can usually choose between a prosciutto piu' stagionato (more robust, often darker, a bit saltier) and quello piu' dolce (that less cured one, meaning it will be sweeter, more tender and delicate, usually more pink). When nothing else will do but the best, go for prosciutto di San Daniele, from Friuli… it is considered some of the finest there is. Of course, just to keep things interesting you can also order speck, a smoked prosciutto that has been de-boned before aging, or culatello, a rare special gut-cased prosciutto that is aged for many months.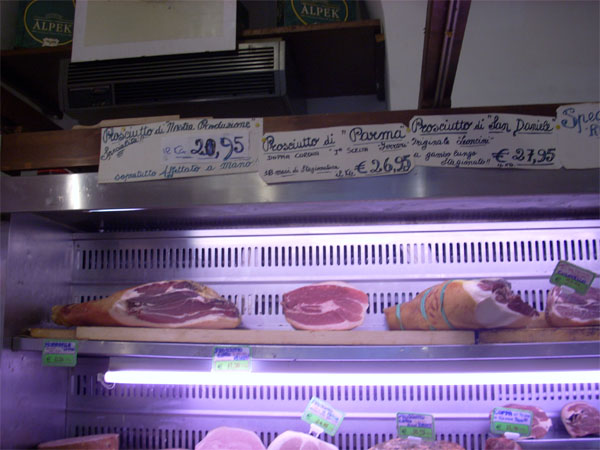 No worries if you don't get it right the first time, you'll be eating great ham no matter what. As for being able to order with the same aplomb as the local signore, all we can suggest is … practice, practice, practice. We sure have been…
– Norcineria Iacozzilli, Via Natale del Grande, 15. Trastevere, Roma