Spring's first blooms are appearing on fruit trees and flower beds across Italy, a sign for this country's famously avid gardeners to start preparing for the seasonal planting of everything from vegetable plots to window boxes. And where do they turn to check moon cycles, planting schedules, weather forecasts, and pruning tips? Why, the mighty yet meek almanac, of course.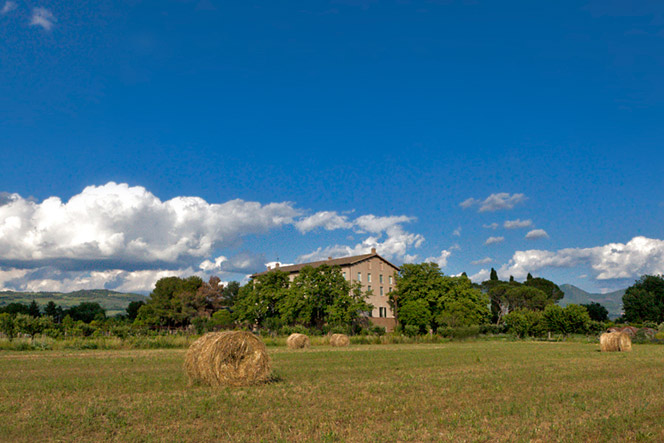 Italy publishes a number of popular and historical almanacs, but the longest running and most recognizable of them all comes out of tiny Umbria: Almanacco Barbanera (named for the—perhaps legendary—18th century astronomer, astrologer, and philosopher). Now in its 252nd straight year of uninterrupted print (yes, you read that right. Every single year for more than two and a half centuries), Barbanera is a household name and reference for a vast swathe of Italy.
The Barbanera Foundation has recently moved from their longtime offices in the center of Foligno to a gorgeous former magnanery in the countryside below the hilltown of Spello, where the restored main palazzo (now housing the publishing offices and archives) and annex (home of the Foundation's museum) are surrounded by an organic vegetable garden and heirloom orchard to one side, and a botanical and rose garden to the other — both of which, the Foundation is quick to point out, are tended with strict adherence to the almanac's own advice.
Barbanera was once one among dozens of almanacs printed in Italy – some national, some local, and many tailored to a specific readership (young women or farmers, for example) – which were distributed at the village markets by traveling peddlers who crisscrossed the peninsula. These popular publications were one of the main sources of information for a nation fragmented by geography and economics, though over time the local and niche products disappeared, leaving just a few general almanacs distributed nationally.
Though Barbanera's homespun advice is not high literature, the almanac is a touchstone of Italian culture. Many of Italy's most important literary, political, and economic figures have been readers and vocal fans of this historic publication, and citations and praise from sources as disparate as Gabriele d'Annunzio and Susanna Agnelli highlight how ubiquitous Barbanera's influence has been in Italy over the centuries.
Barbanera is no longer hawked at country fairs, but sold through bookstores and newsstands each fall, or handed out by businesses as client gifts during the holidays. Though distribution has shifted, popularity remains high: Barbanera continues to print more than 2.5 million copies each year as Italians remain loyal to their source of pragmatic advice (gardening tips, home remedies and economics, recipes, weather forecasts, and Saints' Days) alongside the more frivolous horoscopes, lottery number suggestions, and guide to dream interpretation.
In fact, the Barbanera Almanac can be viewed as both a creator and a product of that confounding but ultimately winning mix of the level-headed and the irrational that is Italian culture in general, which is only natural given the long and affectionate history between this book and its readers.
The Fondazione Barbanera 1762 (Via San Giuseppe, 1 Spello) opens its doors to small groups of visitors for guided tours of its grounds and collection.