Announcement:
Many thanks to all who are contributing to ItalianNotebook's ongoing fundraising efforts. It's heartening to see the reaction of so many of our loyal readers… your support is truly appreciated!
---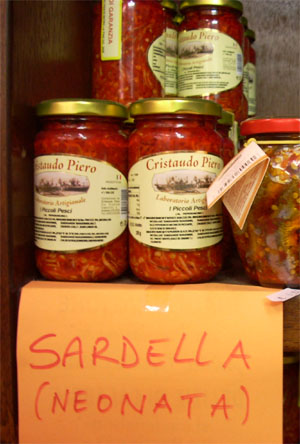 This year's sardella batch is upon us! Sardella is a Calabrian variant of an ancient Roman staple, a salted fish sauce called garum. As such it is a culinary tradition that has been repeated every year in Calabria since antiquity. Of course, trust the Calabresi to take any food and add large quantities of peperoncino (spicy red pepper) to make it even tastier. And grateful we are to them for it!
This mouth watering delicacy is made from newly hatched sardines, salt, peperoncino, and wild fennel tips. The minuscule fish are washed in fresh water, drained in baskets, and then layered in terracotta jars with salt and the red pepper. After two days, it is all mixed together by hand (hopefully they remember to not touch their eyes over the following 24 hours!) and then placed in jars to cure for six to seven months.
Usually eaten as a spread on bread, it is also used in many local dishes, particularly pasta. Just add a bit of warm water from the pasta to a heaping spoonful of sardella in a glass to "melt" it or "loosen" it up, and then add it to the cooked pasta. Delicious! No surprise they call il caviale della Calabria (Calabrian caviar).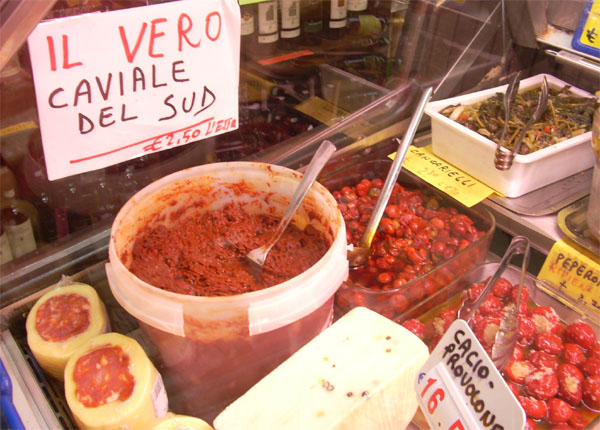 Sardella calabrese
Sardella calabrese (also called Calabrian sardella , Calabrian caviar, caviar of the poor, rosamarina, or nudicella) is a spicy paste made with sardines. The place of origin is Calabria, Italy, and Sardella calabrese is a typical Calabrian product of the province of Crotone, of the Upper Ionian Cosentino and the Lower Ionian Cosentino, based on whitebait sauce very small and / or medium size and sweet or hot red pepper ground into powder. Other ingredients are salt and flavorings (wild fennel seeds).
Ingredients
2

tins

Sardines

1

tin

Anchovies

250

g

Tomato Sauce

1

Rosted Red Pepper

4

Garlic Cloves

3

tablespoons

Olive Oil

1

teaspoon

Spicy Paprika

1/2

teaspoon

Cumin

1

teaspoon

Fennel

1

pinch

Sugar

1

leaf

Laurel

1

Calabrian salt and pepper

2

Cayenne petter
Instructions
Chop the garlic cloves and sauté them in virgin olive oil in a pan over a low heat.

When the garlic begins to take on color, add the peppers and season with salt and pepper (be careful with the salt, as anchovies will be added later). Let stand for 5 minutes, stirring from time to time.

Add the pasta (natural chopped tomato, and allowed to simmer), a pinch of sugar to remove the tomato's acidity and a bay leaf.

After another 5 minutes, add the sardines and anchovies, breaking them up with the help of a spatula, so that they are distributed equally.

Mix in the spices and powdered cayenne by hand.  Continue cooking for another 2 minutes.

Remove from the heat and remove the bay leaf.

Make a paste by stirring everything, adding virgin olive oil. The amount of oil will depend a bit on our taste and what the sardella is for: for an appetizer or dip, 4 tablespoons of oil will suffice.