"It's for the birds". Well, it was almost "for the birds", that medieval guard tower of Castiglione del Lago overlooking Lake Trasimeno. Pino's crew had worked months on restoration of the medieval walls of the town and the corner guard tower. Stonemasons Sassa' and Orazio were about to take down the scaffolding. Pino was there that day to oversee the finishing touches; I went along to see the medieval restoration masterpiece. We found a police car parked in front of the job site. A stern policewoman marched up to Pino like a general leading troops into battle, calling it "un crimine."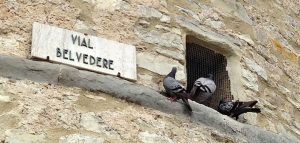 The crime? Having "sequestered birds inside the tower, condemning them to a certain death". Sassa' and Orazio had followed the directives of the direttore del lavoro, closing up the embrasures – once for the shooting out of crossbows, now for safe nesting spots – with chicken wire. The guard tower's perforations had become secluded nesting spots for pigeons and magpies and they were now desperate to return to their nests holding eggs and fledglings. Passing villagers had noted the frantic wing-beating of birds desperate to reach their young on the other side of the new barriers and a call went out to LIPU (Lega Italiana Protezione Uccelli). The bird-lovers had called the police.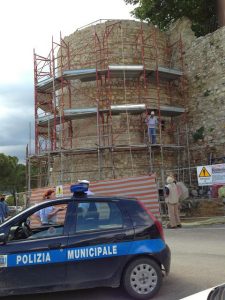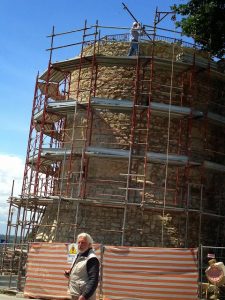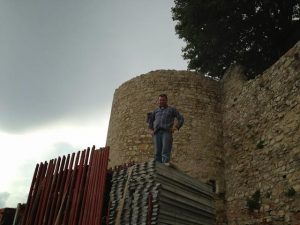 Pino calmly refused the accusation of "criminal", reminding the policewoman that he had simply followed all directives for the restoration on the walls and tower, including the covering up of the embrasures. "We let all of the birds out that we could," Pino added, "even trying to scare them out with the noise of petardi (small firecrackers)." The policewoman crossed her arms, tapped her foot on the ground, stood firm. Pino ordered the removal of the chicken wire and a final attempt to eliminate all the birds. His workers put in another day on the job, doing their best once again to drive away the birds, but it was impossible to reach into the very back of the embrasures to nests with eggs, perhaps little ones.
Pino's construction company's work can be seen here.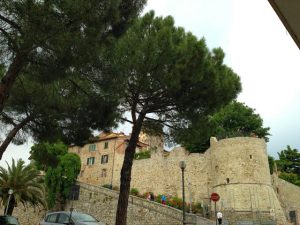 The chicken wire eventually returned to the apertures, according to the work superintendent's directives: birds have to be distanced from the historic monuments to save the stonework and brickwork. The guard tower of Castiglione del Lago is no longer "for the birds."