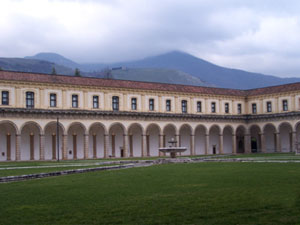 A very dear but absent-minded friend called the other day to ask if I would accompany him to Padula, a small town pressed into the Apennine mountains between Naples and Salerno where he had left his watch at a local B&B. Thank heavens, because otherwise I would probably have never visited the Vallo di Diano.
Located here is the magnificent Charterhouse of San Lorenzo, better known as La Certosa di Padula. It is one of the biggest and most extraordinary ecclesiastical buildings in Europe, yet one of the least-visited in Italy. It is immense . . the buildings and grounds cover an area of over 2,250,000 square feet!
Founded by the Norman Tommaso Sanseverino in 1306, it was most likely built for strategic and political reasons. Through feudal organization, the Charterhouse allowed this French order to maintain a strong influence over the entire area. Apart from the lay brothers, the monks (called Certosini) had no contact with the outside world and visitors were not welcome. An exception was made when King Charles the V stayed there in 1535, on his return to Naples from Reggio Calabria. Legend has it that the monks prepared a 1000 egg omelette for the emperor and his retinue!
More Notes from same category