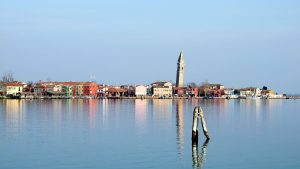 The next time you are planning a visit to Venice, be sure to include enough time to visit charming and colorful Isola di Burano. Located in the Venetian Lagoon, Burano is only about four miles and a short 30-40 minute trip from Venice by vaporetto. Lesser known than nearby Murano, famous for its long history of glass making, Burano is known for its lace and colorful character.
Freshly painted in a vivid palette of vibrant pastels, adjoining residences compete for your camera lens! Since Italians don't use screens, doorways are shielded from the heat (and prying eyes!) by coordinating curtains gently dancing in the breeze and, sometimes, accompanied by laundry content to be basking in the sun of this charming island.
However, all of this color is not for our benefit alone, but has been a long standing tradition. A fishing village for many centuries, when weary fishermen and sailors returned from the sea, the vibrant and distinctive color of their home guided and greeted them home. Even though the color choices are now regulated by permits from the government, we too feel welcomed and grateful for this tradition.
Regulated or not, tradition and pride (and perhaps a bit of competition?) is apparent at every turn as we are greeted by cheerful and lively hues of yellow, green, lavender, pink, red… Our spirits are lifted, our delight doubled by the dazzling reflections dancing in the canals.